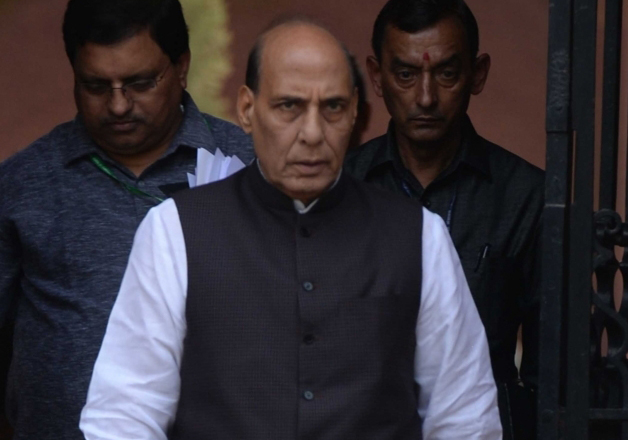 Union Home Minister Rajnath Singh today held separate meetings with the chiefs of important central security forces including National Security Guard (NSG) and Central Industrial Security Force (CISF).
According to an official source here, these were routine meetings but were significant in the wakeof the surgical strikes carried out by the Indian Army across the Line of Control (LoC).
Rajnath Singh met with CISF DG OP Singh and NSG DG Sudhir Pratap Singh, sources said. The meetings were to ensure security in airports and various industrial units across the country.
The Home Minister also met RK Pachnanda, Director General of National Disaster Response Force (NDRF) and discussed about general preparedness.
In his North Block office, Rajnath Singh along with his deputy Kiren Rijiju, other senior officials and intelligence agencies chiefs reviewed the overall security situation in the country and especially along the International Border in Punjab, Jammu and Kashmir, Rajasthan and Gujarat.
Meanwhile, the Indian Army, the Indian Air Force (IAF) and the Border Security Force (BSF) were put on high alert in Punjab and neighbouring states to counter any escalation of the situation following the surgical strike across the Line of Control (LoC).
Army convoys, carrying artillery guns, could be seen moving towards the border belt in Punjab on Thursday and Friday in preparation of thwarting any move from Pakistan to retaliate the LoC strike.
The IAF has been put on high alert with forward air bases on the western front in full preparedness. The IAF bases in the region include Halwara and Adampur (both in Punjab), Ambala (in Haryana) and Hindon (near Delhi).
Air Force fighter jets carried out sorties over some parts of Punjab as a preventive measure.
The International Border (IB) in the Punjab frontier is manned by the BSF which is on maximum alert following the latest developments at the LoC.
Army units were also on high alert in Punjab. The army presence in Punjab is substantial, spread in Mamoon cantonment near Pathankot, the 11 Corps based in Jalandhar, the 10 Corps in Bathinda in southwest Punjab and army units in Ferozepur, Amritsar and other places.
The Western Command, headquartered at Chandimandir near Chandigarh, is monitoring the situation along the border with Pakistan in Punjab sector, a senior Army officer said.
The Ambala-based 2 Corps, a strike corps, has also been put on high alert along with the Hisar-based 33 Armoured Division, sources said.