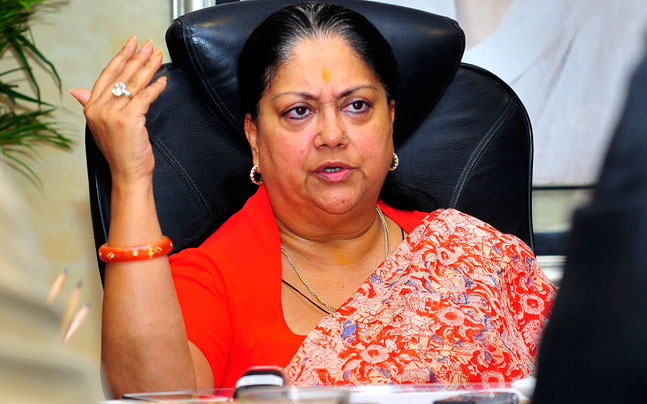 The Rajasthan government led by Chief Minister Vasundhara Raje on Monday tabled the controversial Criminal Laws (Rajasthan Amendment) bill in the state Assembly for passage. However, strong protest and walkout by the Congress MLAs as well as one from the BJP resulted in the session to be adjourned for the day.  
Congress's Rajasthan unit president Sachin Pilot was briefly detained along with other Congress leaders as soon as they began a march in protest against an ordinance promulgated by the government that seeks to protect serving and former judges, magistrates and public servants in the state from being investigated for on-duty action, without its prior sanction.
After the Rajasthan Assembly session was adjourned for the day, Congress MLAs and leaders assembled at Jyoti Nagar T-point in the city, from where Pilot was to lead a march to the Raj Bhawan to hand over a representation against the Criminal Laws (Rajasthan Amendment) Bill, 2017.
Soon after the march began, the police detained Pilot and other Congress leaders and took them to the Bajaj Nagar police station.
They were later released.
The Criminal Laws (Rajasthan Amendment) Ordinance, 2017, also bars the media from reporting on the allegations unless sanction is obtained.
 "No magistrate shall order an investigation nor will any investigation be conducted against a person, who is or was a judge or a magistrate or a public servant," the ordinance says.
After their release, Congress leaders said their opposition to the government's move will continue.
"We will not let the government pass the bill. We are strongly opposing it. If the government passes the bill using its majority in the House, the Congress will repeal it when the party comes in power," Pilot told reporters after being released.
The Congress has opposed the bill, tabled in the Assembly today, which seeks to replace the Criminal Laws (Rajasthan Amendment) Ordinance, 2017, promulgated on September 7.
A senior BJP MLA, Ghanshyam Tiwari, is also among those who have opposed the ordinance. He walked out of the Assembly twice after he was disallowed to raise a point of order by the Speaker.
Pilot said the ordinance was promulgated as Chief Minister Vasundhara Raje feared that she might be in trouble due to corruption.
The 200-member Rajasthan Assembly has 160 BJP MLAs. The Congress has 24 members, National People's Party (NPP) 4, Independents 7, BSP 2 and the National Unionist Zamindara Party 2. One seat is vacant.