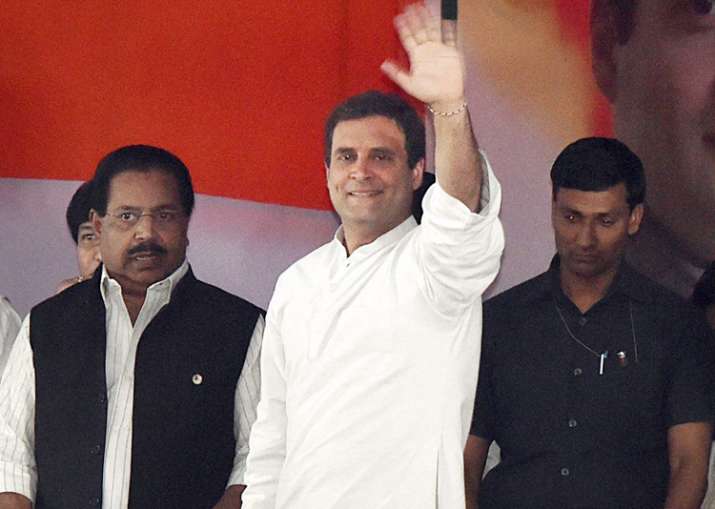 Congress vice-president Rahul Gandhi on Tuesday questioned Prime Minister's silence on a string of racist attacks on Indians abroad and said Narendra Modi is keeping mum because he is "scared". 
"Indians are being killed in America but our Prime Minister does not speak a word about it. He is scared," Rahul said at a rally at Delhi's Ram Lila maidan. 
"Modi has a 56-inch chest, right? When our youths are being killed in the US, bullets are being fired at them, why is Narendra Modi quiet? Why has he not spoken a single word? Because Narendra Modi practises politics of lie," Congress leader said. 
"Modi hugs Obama. But when our people are getting killed, the Prime Minister does not utter a single word as he is scared," he added.  
Congress chief spokesperson Randeep Surjewala said, "People of Indian origin and Indian citizens are being killed, threatened and told to go back from different countries but the government of the day is absolutely silent." 
He said four different incidents have happened in the last 15 days in America, with one Indian shot dead. 
Training his guns on Modi, the Congress leader wondered why he was silent on NRIs even when he has been "using" them for votes.
"Modi Ji, it is time for you to come out of election mode and start the process of governance, since 34 months have already passed. 
"It is your solemn duty, it is your cardinal duty, it is your first duty to protect the honour, the safety and the persons of Indian origin as also Indian citizens across the world," he said. 
Surjewala said these are not isolated incidents and reminded that it started in Australia and then in New Zealand where an Indian origin person was asked to leave the country. 
"Modi Ji, who never tires of using NRIs for vote getting exercises and for reflecting his connects to the non-resident Indians and people of Indian origin, is completely mum on the issue," he said. 
In the latest attack, Deep Rai, a US Sikh national of Indian origin and was shot outside his home in Kent, Washington, on Friday by a masked gunman who shouted "go back to your own country". 
Techie Srinivas Kuchibhotla and Gujarati businessman Harnish Patel were killed in attacks in the US last week.
'Modi, Kejriwal play politics of false promises' 
Rahul Gandhi today attacked Modi and Delhi Chief Minister Arvind Kejriwal for playing "politics of false promises" as he set the tone of his party's campaign for upcoming civic polls in the national capital. 
Gandhi targeted both Modi and Kejriwal for leading "individual-centric" governments and said, "Both Modi and Kejriwal engage in politics of false promises," Gandhi said as he listed poll promises Modi and Kejriwal had made ahead of 2014 Lok Sabha and 2015 Delhi assembly polls respectively. 
He said the Congress governments echo voice of every countryman.