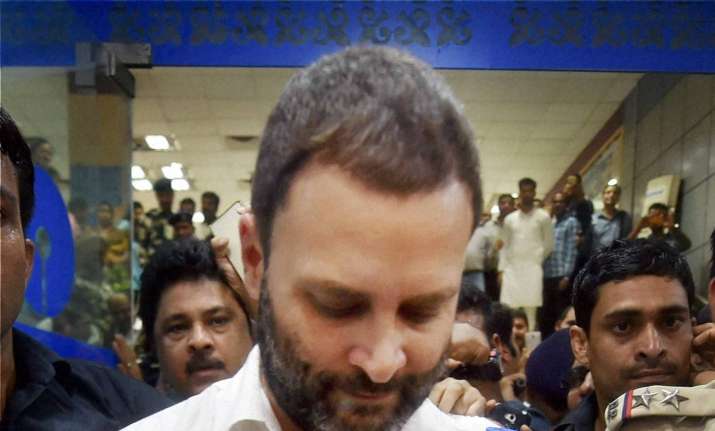 Taking a jibe at Congress Vice President Rahul Gandhi for standing in queue at a bank to get demonetized currency notes exchanged, the BJP today said this photo opportunity signalled "success" of the government's demonetisation scheme.
"Rahul Gandhi wanted to create a scene at the State Bank of India, Parliament Street by standing in a queue. He thought it was a great photo opportunity. He visited the bank perhaps for the first time," Union Minister Prakash Javadekar said in a statement.
"The irony is that, on the contrary, his photo opportunity turned out to be a success of Prime Minister Modi's scheme. Even those in privileged dynasties will now have to queue up and face the law. The age of privileges for a few is over now," he added.
The BJP leader said that those born into dynasties lived under the impression that they were born to rule. 
"They never stood in a queue. Succession to positions of power was a birth right," he said. 
Taking a dig at Gandhi, Javadekar said, "Rahul Gandhi never stood in a queue to become the leader of his party. He superseded men of greater experience and competence merely because dynasties do not queue up. That is the feudal order. Only if he had queued up within the Congress party and the fittest had survived, the party would have been better off."
He said the decision to replace high denomination currency in order to get rid of black money and corruption has placed a premium on honesty of the common-man. 
"Those with unexplained cash are in trouble," he said. 
Gandhi on Friday took people by surprise when he arrived at an SBI bank on Parliament Street here and stood in a queue to get the demonetized currency notes exchanged.
"I have come here to get Rs 4,000 exchanged," he told reporters.
Gandhi also criticized the bank authorities for abolishing the queue as soon as he became a part of it.
"I want to stand in the queue...people are suffering, neither Prime Minister Narendra Modi nor owners of big media houses would understand it," he angrily told mediapersons, who wanted to enquire about his move to come to the bank to get the notes exchanged.
(With IANS inputs)