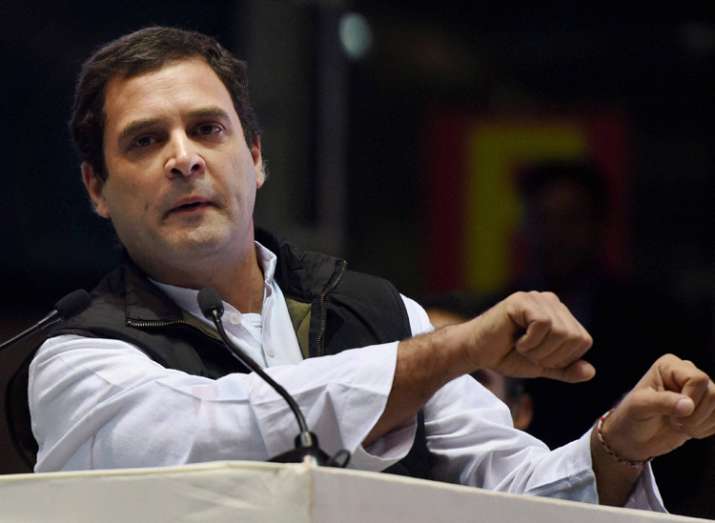 Congress vice president Rahul Gandhi on Wednesday took a jibe at Prime Minister Narendra Modi over demonetisation, making a reference to the PM's famous 'mitron' catchphrase.  
"Modi ji delivered dialogues like the ones in Amitabh Bachchan's films. He came and announced 'Mitron, ye jo tumhare jeb mein 500, 1000 ka note hai, ab ye kaghaz ho gaya hai kaghaz (Friends, Rs 500 and Rs 1000 notes in your pockets have now become a worthless piece of paper')," Rahul said while speaking at Congress' 'Jan Vedna' convention. 
On November 8, Modi had announced the decision to scrap high denomination notes in a televised address. The decision to demonetise almost 86 per cent of total currency in circulation was taken to fight problems of counterfeiting, terrorist financing and black money, the Prime Minister had announced.  
The decision created an unprecedented cash crunch in the country, creating huge problems for people who largely carry out daily transactions in cash.  
Today's 'Jan Vedna' convention by the Congress was part of a series of protests being carried out by the party since the note ban decision was announced.  
At the convention today, Rahul also attacked the Bhartiya Janata Party (BJP) for spreading "fear" wherever it is in power in the country. 
"Policies introduced by the Congress have helped the people of this country to be fearless," Gandhi said speaking at the Jan Vedna party convention held here to highlight the "sufferings of people" post demonetisation. 
"But what has (Prime Minister Narendra) Modiji done? He has made farmers of the country fear and also said that I shall snatch your land if you don't listen to me," Gandhi said, referring to the land acquisition act.  
"It is a clash between two philosophies. Congress says 'daro mat' (don't fear), BJP (Bharatiya Janata Party) says 'daro aur darao' (create fear and frighten)," Gandhi said.
Gandhi also said that wherever "we (Congress) go we spread the message of fearlessness".