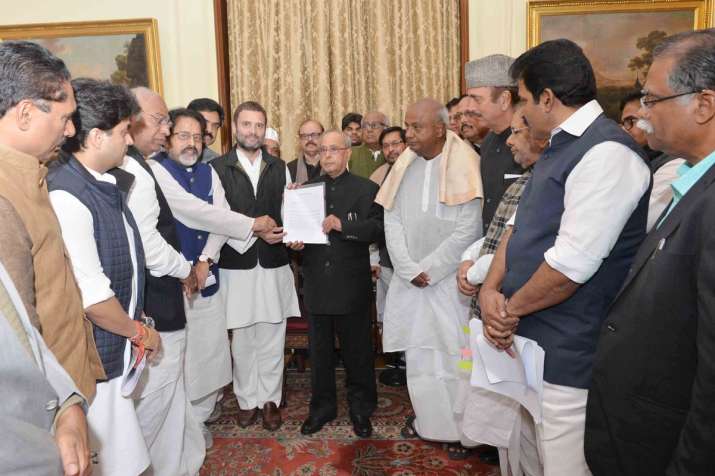 Congress vice-president Rahul Gandhi on Thursday met President Pranab Mukherjee to "raise objection on the manner in which the Income Tax Amendment Bill was passed in Lok Sabha."
He was accompanied by a delegation of 18 opposition parties. 
"I-T Amendment Bill was passed without any discussion, this is not the way to run parliamentary business," Rahul Gandhi said after submitting a memorandum to the President. 
He alleged that the voice of the opposition was stifled in Parliament during the passage of the bill.
The Bill to amend the IT Act to impose tax on deposits made post-demonetisation was passed in Lok Sabha on Tuesday, without discussion amid sloganeering and shouting by the opposition. 
Taxation Laws (Second Amendment) Bill 2016 amends the Income-tax Act, 1961, and the Finance Act, 2016.
The government has said that the bill was brought after it came to the government's notice that some people were trying to illegally exchange the demonetised Rs 1000 and Rs 500 currency notes.
"Government moved amendments in Income Tax law after it saw that a few people were still trying to convert black money into white post demonetisation," Finance Minister Arun Jatley said. 
He said as per the amendment proposed, those caught illegally converting money will have to cough up 60 per cent tax plus penalties, which will come to 85 per cent. 
Those who disclose black money to banks will have to pay 50 per cent tax, including surcharge and penalty. While they will get back 25 per cent immediately, the rest 25 per cent will be returned after 4 years.