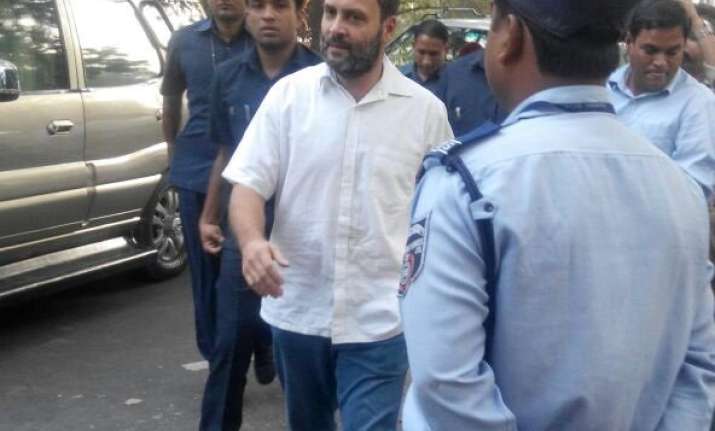 Congress Vice President Rahul Gandhi today took people by surprise when he arrived at an SBI bank on Parliament Street and stood in a queue to get Rs 500 and Rs 1000 currency notes exchanged.
"I have come here to get Rs 4,000 exchanged," he told reporters.
As soon as the media gathered around him, the Congress VP took the opportunity to slam the Narendra Modi government for demonetising Rs 500 and Rs 100 notes.
Gandhi also criticized the bank authorities for abolishing the queue as soon as he became a part of it.
"I want to stand in the queue...people are suffering, neither Prime Minister Narendra Modi nor owners of big media houses would understand it," he angrily told mediapersons, who wanted to enquire about his move to come to the bank to get the notes exchanged.
In its biggest crackdown ever on black money, the government on Tuesday night announced demonetisation of Rs 500 and Rs 1,000 notes and asked people holding such notes to deposit in bank accounts. 
Since yesterday people have been thronging banks amid concerns among people over exchanging and depositing the scrapped high denomination currency.  People can deposit old Rs 500 and Rs 1,000 notes in their accounts till December 30, 2016, without any limit.  
Restrictions have been imposed on withdrawal limit and people can withdraw up to Rs 10,000 per day or Rs 20,000 per week.  This limit will be reviewed after few days.  Besides, old notes up to Rs 4,000 can be exchanged at any bank or post office till November 24, 2016, by showing photo ID proof.
ATMs can be used to withdraw up to Rs 2,000 per day per card till November 18 and Rs 4,000 from November 19 onwards.  This limit too will be reviewed subsequently.  The ministry also advised people to make payments using cheques, demand drafts, debit or credit cards and electronic fund transfers and there is no restriction on such transactions.