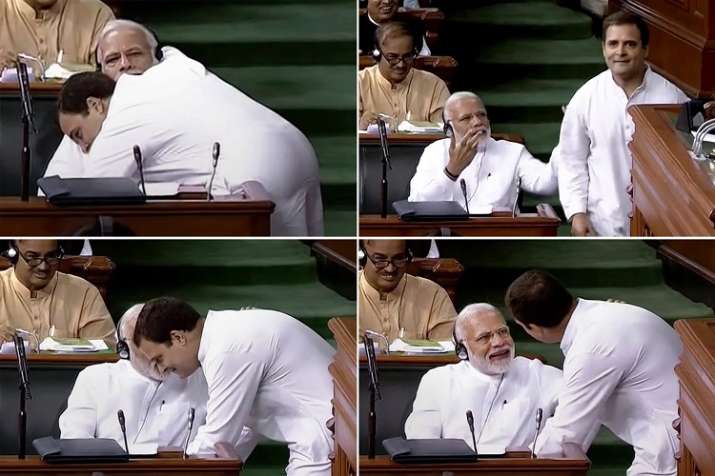 Was Congress President Rahul Gandhi's controversial hug in the Parliament an attempt to end cycle of hatred or did he do it on the directions of an occult practitioner (tantrik)? A Bharatiya Janata Party (BJP) leader has claimed that Rahul Gandhi hugged Prime Minister Narendra Modi during no-confidence debate in Lok Sabha only because a tantrik had told him to touch the PM chair 'at any cost' after ending his speech.
Delhi BJP Spokesperson Tajinder Pal Singh Bagga on Tuesday tweeted that one of his close friends, who is a Congress MP, told him that a 'Tantrik told Rahul Gandhi If you want to become PM you have to touch PM Chair at any cost after ending ur speech'. 
After his speech during no-confidence motion in Lok Sabha, in which he attacked the Modi government, Congress President Rahul Gandhi gave the cameras a moment and walked up to Prime Minister Narendra Modi's chair and hugged him. He even received applause from the opposition benches, but the BJP leaders criticised him saying it was an unnecessary act. Later, Lok sabha Speaker Sumitra Mahajan also showed her unhappiness over the Congress President's act in the House.
My Close friend who is Congress MP told me,Tantrik told Rahul Gandhi If you want to become PM you have to touch PM Chair at any cost after ending ur speech. #HugDrama

— Tajinder Pal Singh Bagga (@TajinderBagga) July 24, 2018
"My friend (Congress MP) was chatting in a group of five-six people, which included Jyotiraditya Scindia, when he learned that the hug was not a political move, but was orchestrated on the advice of a tantrik," Bagga told India TV Digital over the phone. Even though, the BJP leader refused to share the name of his source, he did say that it was a young Congress MP from Punjab.
Here are excerpts from the telephonic interview with Delhi BJP spokesperson Tajinderpal Singh Bagga:
Ques: You have tweeted that Rahul Gandhi consulted a tantrik for his speech in parliament, do you really think he consults a occult practitioner for a matter as crucial as prime ministership? 
Ans: It does not matter what I believe, I was told this by a friend who is a youth Congress MP from Punjab. What further strengthened my belief was that Rahul Gandhi winked after hugging PM Modi. The nation perceived the hug as a good gesture and a new beginning, but the wink that followed created doubt of a conspiracy. And how can you forget that it is the same Congress, whose prime minister Narasimha Rao used to consult a tantrik named Chandraswamy in every government matter. Occult practices and black magic are nothing new for Congress. 
I think Rahul Gandhi must give clarification on this, because if a person who has the ambitions to become India's prime minister is involved in such practices then it is a matter of shame for India. 
Ques: How did come to know about this? 
Ans: I cannot name the person, but he said that he was in a group of five-seven youth Congress MPs when he learned about this information. 
Ques: Moving on to other matters, what is BJP's preparation for the upcoming Assembly elections in Delhi? 
Ans: You have seen that BJP won the MCD elections with significant margin. People have witnessed Kejriwal making promises and then going back on them. Thus, they have once again put their trust in BJP. The party will emerge victorious on 20 out of 20 Assembly seats in Delhi. BJP is ready for elections as we are always in the midst of people, trying to solve their problems. We are available 24*7 online and solve whatever issue is brought to our notice at the earliest. We do not need to make special preparations. 
Ques: What kind of competition you expect from Aam Aadami Party in the next polls? 
Ans: During the last assembly elections, Arvind Kejriwal made tall promises about wifi, he said that there be wifi across Delhi, but I want to ask him, after three years of dragging this issue can he name one area where there is wifi? He said there will be 15 lakh CCTV cameras, there is not even one single market in Delhi which has said cameras. They said they will open 500 new schools, no new school is under construction. They said they will make 20 colleges, no new college project has started in last three years. 
It's visible to the Delhi public that none of the promises made by the government has been fulfilled and it is not possible for AAP to secure better than third spot in next polls.  
Ques: How do you foresee BJP's performance in the 2019 Lok Sabha elections? 
Ans: The nation has been the witness to the amount of work done by Narendra Modi ji. Eighteen thousand villages which were in dark despite 70 years of independence were electrified, 5 crore women were given no cost LPG and freedom from wooden stoves, people like drivers and labourers were given insurance...
Ques: But how will these schemes or achievements affect Delhi voters' decision in Lok Sabha polls as most of these facilities already existed in Delhi? 
Ans: These facilities were not pervasive within Delhi. Hundreds of people living in slums are first-time beneficiaries of such schemes. For example, in Jangpura Assembly area there are 27 slums. Most people who live there are poor drivers, labourers, street hawkers, etc. The government provided them insurance facility. Now if anything happens to them (the breadwinner), their family is immediately provided with the help of Rs 2 Lakh. Delhi-Meerut highway, recently inaugurated by PM Modi, has cut down the time of travel to 20 minutes from 1 hour 30 mins. Several Central schemes have helped Delhiites. Plus, we have delivered a corruption-free government in past four years. 
Ques: What is your assessment of/suggestion to Arvind Kejriwal government in Delhi? 
Ans: I would suggest Arvind Kejriwal ji, that he must do some work in the last two years of his political life. Because if he does not do anything even now, his legacy will be of a chief minister who did nothing other than levy allegations. People do not appreciate politics of allegations. I request him that he must resolve and do some work before his term ends. He says that Centre does not let him work by not authorising fresh resources for projects, but the truth is that he already has a lot resources in stock which he has not utilised, like land for new academic institutions. 
There have been instances before where there were two different governments in Centre and Delhi, and there was a lot of development work undertaken during those governments. But he does not have the intention to work, nobody can help him.
When Rahul Gandhi hugged PM Modi: Watch video