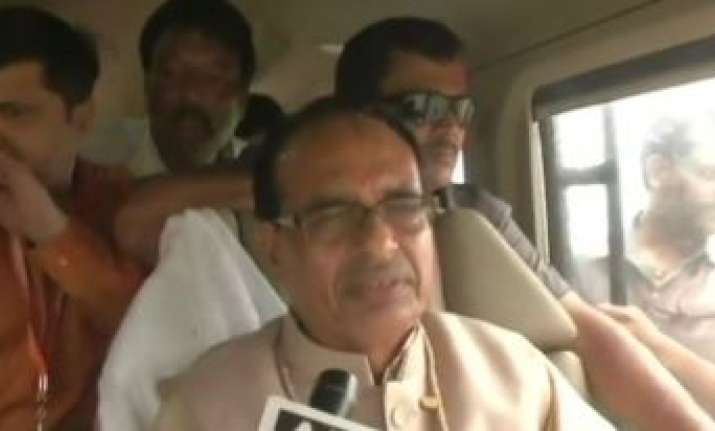 Madhya Pradesh Chief Minister Shivraj Singh Chouhan on Sunday attacked Congress president Rahul Gandhi and said he has no understanding of the country, its culture and its ritual.
"Neither he has knowledge about farming nor he has seen villages," MP CM said during his "Jan Ashriwad Yatra" in Ujjain.
Just a few months before Madhya Pradesh Assembly polls, Chief Minister Shivraj Singh Chouhan on Saturday began his "Jan Ashirwad Yatra" from the holy city of Ujjain. The yatra was flagged off by BJP President Amit Shah, who was on a day's visit to the state.
The yatra will continue for 55 days during which the Chief Minister is due to address around 700 rallies. The yatra will cover all the 230 Assembly constituencies. The CM will cover the entire distance on his grand chariot which has facilities like TV, refrigerator and oven. In the rear end of the vehicle, there is also a personal cabin for the chief minister. The chariot is wi-fi enabled and as per reports, the entire cost of the vehicle is Rs 1.25 crore.
In addition to the above one, the state government will press into service another chariot which will run in Bundelkhand region.
On Saturday, CM offered prayers at Ujjain's Mahakal temple. "Prayed for the development of state... peace, well-being and prosperity for the people of Madhya Pradesh," Shivraj tweeted. 
According to the state Bharatiya Janata Party (BJP), the first phase of the yatra will cover 300 km and touch 11 constituencies. 
Elections to the Madhya Pradesh Legislative Assembly will be held later this year to elect members of the 230 constituencies in the state.  The tenure of MP Legislative Assembly ends on 7 January 2019.
(With inputs from agencies)