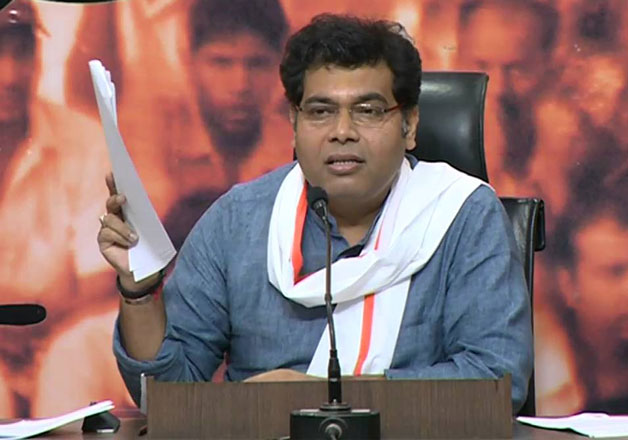 The Bharatiya Janata Party (BJP) today raked up the AgustaWestland scam to counter Congress vice-president Rahul Gandhi's demands on note ban crisis.
Asking him to first answer who benefited in the 2012-13 VVIP chopper deal, party's national secretary Shrikant Sharma said that 'Rahul's frustration was understood as he was helping those who earlier looted the country'.
"We understand your frustration, Rahul Gandhiji, because you have been helping those who tried to destroy the nation with their black money," Sharma said.
"Since the allegations against you in the VVIP chopper scam reached your doorstep, you should first answer who benefited from the 'mota maal' (hefty amount)," Sharma added.
He also warned the Congress against doing politics over the deaths caused in the past 48 days after demonetisation was announced.
"We are pained whenever there's any death. But do not do politics over it, Rahulji, and do not forget about the thousands of farmers who committed suicides in your tenure," Sharma said.
Continuing his tirade against Prime Minister Narendra Modi over demonetisation drive, Rahul today once again accused the government of hurting financial independence of people of this country and asked on what basis limits of Rs 24,000 were imposed on withdrawal.
He even said that 'a sum of Rs 25,000 should be deposited in the account of every woman of a BPL family that has suffered post demonetisation'. The Congress VP also asked the government to double MNREGA wages, Income Tax, and Sales Tax rebate for small businessmen and shopkeepers.
Rahul has been attacking the Prime Minister fiercely ever since the latter announced the scrapping of Rs 500 and Rs 1,000 notes from the economy to fight black money.
On Tuesday, an opposition meet on the issue of demonetisation led by him fizzled out as key opposition parties like the Left Parties, JD(U), NCP, Samajwadi Party and BSP stayed away from it.