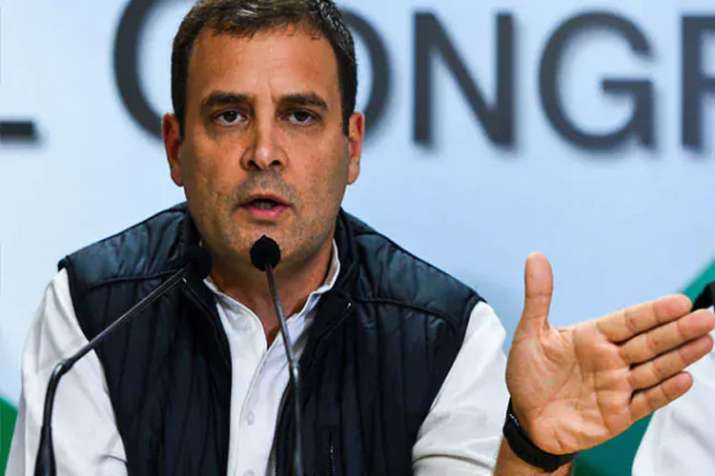 Congress president Rahul Gandhi on Friday came out all guns blazing at the Prime Minister Narendra Modi and alleged that there was massive corruption in the Rafale deal.
He also reiterated the Congress' demand for a Joint Parliamentary Committee (JPC) probe into the deal. Gandhi claimed that if it was conducted, names of Prime Minister Narendra Modi and businessman Anil Ambani will come to the fore.
However, both, government and Anil Ambani's Reliance Group have rejected Gandhi's allegations of any wrongdoing.
At a press conference, Gandhi said the Supreme Court in its verdict cited that a report by the Comptroller and Auditor General (CAG) on the Rafale deal was submitted to the Public Accounts Committee (PAC) but asserted that no such report was given to the House panel headed by Congress' leader in Lok Sabha Mallikarjuna Kharge.
Kharge, who was also present at the briefing, said PAC has not received any such report.
"Where has that report gone? Is it with some other PAC that PM Modi has set up," he asked in a dig at the government.
He also accused the Modi government of destroying "all institutions" and asserted that corruption to the tune of Rs 30,000 crore has taken place in the Rafale deal under its watch. 
The Supreme Court on Friday junked petitions seeking court-monitored probe into the Rafale jet deal saying that there was "nothing questionable" in the decision-making process and the bench was not competent to go into the question of pricing and the choice of offset partner by Rafale manufacturer Dassault.
A bench headed by Chief Justice Ranjan Gogoi said it "sees no reason to intervene" in the defence deal as the four petitions sought a court-monitored probe into the deal for 36 Rafale fighter jets in a fly-away condition from Dassault Aviation.
The Centre had defended the deal while admitting that there was "no sovereign guarantee from France, but there is a letter of comfort..."
The petitions seeking the probe were filed by Prashant Bhushan, Arun Shourie, former Finance Minister Yashwant Sinha, advocates M.L.Sharma and Vineet Dhanda, and AAP lawmaker in Parliament Sanjay Singh.
WATCH VIDEO: Rahul Gandhi Still Claims To Prove 'Chowkidaar Chor Hai' After SC 'Clean Chit' Over Rafale​
(With inputs from agencies)