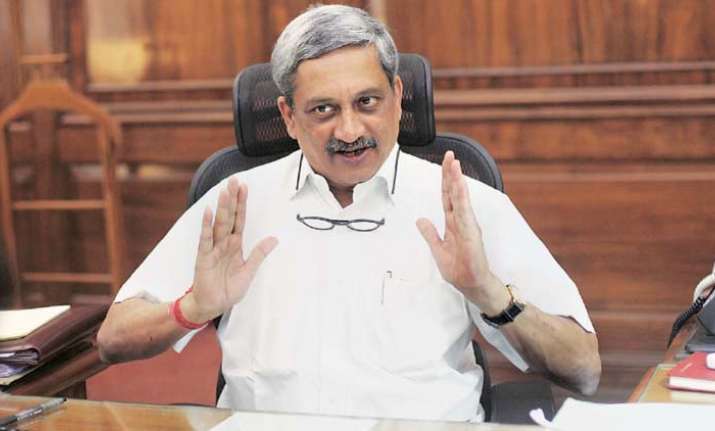 Goa Chief Minister and former Defence Minister Manohar Parrikar  On Friday said that the pressure of some key issues, like Kashmir, was one of the reasons why he opted to quit as the defence minister and return to his home state.
"The pressure of the issues like Kashmir while working as defence minister in Delhi was one of the reasons why I chose to come back to Goa," Parrikar said while addressing a gathering on the occasion of the 126th birth anniversary of Dr B R Ambedkar.
"I chose to come back to Goa when I got an opportunity to do so. When you are in the Centre, you have to tackle issues like Kashmir and others... Delhi is not my area of operations (and) that is why I used to feel under pressure," he added. 
Parrikar was sworn in as the chief minister for the fourth time last month after BJP managed to stitch together a coalition after the assembly election in the state. 
Parrikar, who held the cabinet position, resigned from the post to take up the chief ministership.
Earlier, Manohar Parrikar told a news channel that Pakistan is playing a "dangerous game" in the case of Kulbhushan Jadhav without  realising that it lacks the power to fight back if India retaliates.
"Pakistan is playing a dangerous game. Pakistan should understand that if India starts retaliating then it does not have the power to fight back, whatever they may project themselves to be," Parrikar told a news channel. 
A military court in Pakistan has sentenced Indian naval staff Jadhav to death for alleged espionage.
 The Indian government reacted strongly to the development saying if the sentence were to be carried out it would be considered as "pre-meditated murder".
Parrikar, however, said that India wants peace in the  region and Pakistan should send Jadhav back because Taliban kidnapped him and handed him over to Pakistan
 "We want peace. We do not want provocation. So they should send Jadhav back," Parrikar said.
 "First of all, they have abducted him. He was not in Pakistan. He was in Iran. Iran has said that the Taliban kidnapped him and took him to Pakistan. Pakistan has a habit of doing something or other," Parrikar he added.
Parrikar recalled External Affairs Minister Sushma swaraj's statement of giving an apt reply to Pakistan and added that India can take care of Pakistan if it tries to do anything ill-advised.
"....(External Affairs Minister) Sushma Swaraj has given an apt reply—'we will not keep quiet' (if Pakistan executes Jadhav). The country will do what is required. We can take care of Pakistan if it tries to do anything ill-advised," he said.
(With agency inputs)