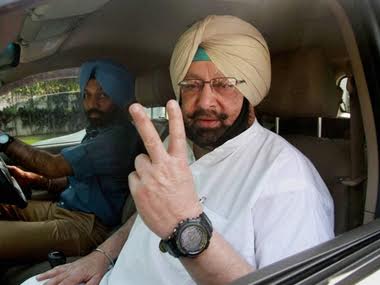 Punjab Congress chief Amarinder Singh today alleged that the state was suffering from 'lack of governance' that has led to corruption and rampant drug problem in this part of India.
He alleged that education and health systems have collapsed in the state.
"In most party programmes, youth come to us with the majority of questions related to the lack of governance by Akalis," he told reporters here.
"Corruption is rampant, drug problem is at its peak, education and health system has collapsed and common man is worried where to go to get his work done," he said.
"In Punjab, police is only busy catching small fries in drug trade and not touching the sharks," he said, adding that the drug issue will be one of the key concerns during electioneering.
Attacking Revenue Minister Bikram Singh Majithia over the drug issue, he said, "Once Congress forms government in the state, we will prosecute Majithia."
On the regional parties announcing names of their chief ministerial candidates well in advance, he said, "I am sure Congress will also resort to the same practice in due course of time."
On the arrest of AAP MLA Naresh Yadav in a desecration case in Malerkotla, he said, "This business of arresting people without concrete evidence in hand is absolutely wrong."
"There is law of land...Till something concrete is found how can you arrest someone," he said.
Singh termed cricketer-turned-politician Navjot Singh Sidhu's resignation from Rajya Sabha as "not a gain but a step down for him".
"From a Chief Ministerial face he will be just a campaign face for AAP in Punjab," he said.
On AAP's prospect in the 2017 polls, he claimd the party's popularity had "gone down" in Delhi and it's image had become "negative", unlike what was being projected in Punjab.
Singh said AAP was "inexperienced" to run a government.
"Even I took an year to understand things after I became the Chief Minister," he said.
On possibility of Arvind Kejriwal being projected as CM face of AAP, he said, "Punjab has enough people and faces and the state does not need to import someone.
 
Kejriwal is from Haryana and people of Punjab will not accept him."
On the possible damage by AAP to Congress in the polls, he said, "Peoples Party of Punjab (PPP) damaged Congress at the last elections. Now AAP will go downhill...We need to contain them (AAP)."
Singh claimed after the announcement of polls, Akali Dal would "break up" as there was a lot of resentment within and against the party in the state.
He said winnability will be the sore criteria in disbursement of party tickets and some sitting MLAs would even be dropped after tickets allotment.
He said he was open to alliance with Left parties in Punjab.