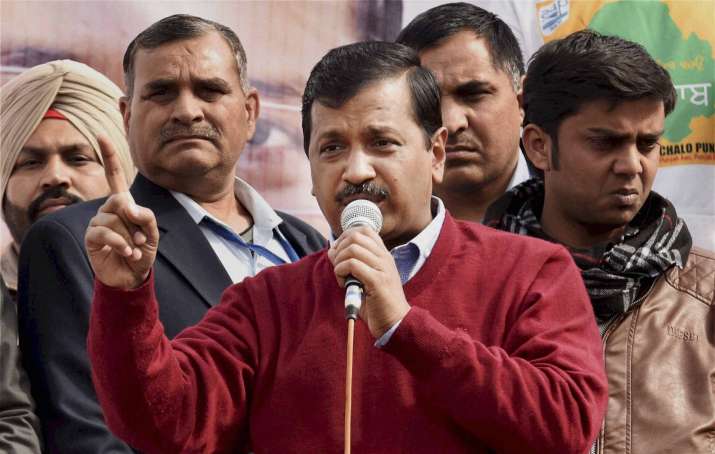 Aam Aadmi Party (AAP) convener Arvind Kejriwal has often been accused by the Shiromani Akali Dal (SAD) and Congress of seeking support of radicals in Punjab to win upcoming Assembly elections. The new charge against him include that he allegedly stayed in the house of Khalistan Commando Force (KCF) commander Gurinder Singh in Moga. 
Addressing a gathering in favour of party candidate Parkash Singh Bhatti here, SAD president Sukhbir Singh Badal said on Sunday that by staying at the KCF Commander's house, Kejriwal had given a clear signal that he was ready to go to any extent to capture power in the state. 
He said such patronisation of extreme elements by AAP would spoil the peaceful atmosphere in Punjab. 
"We have been able to achieve peace and communal harmony after lot of difficultly. But it seems Kejriwal is bent on destroying both for his political interests," he added. 
Badal said that Kejriwal had held a breakfast meeting with R P Singh of the Akhand Kirtani Jatha, which was a front organisation of the Babbar Khalsa International (BKI). 
He also alleged that he is meeting people and organisations who created trouble in Punjab and propagated the idea of Khalistan. 
Earlier this month, Badal Jr. had accused Delhi Chief Minister of meeting with people and organisations who created trouble in Punjab and propagated the idea of Khalistan including RP Singh. 
"Kejriwal is playing a dangerous game. After realising that he is losing his base, he started aligning with radical organisations," said Sukhbir Badal. 
His wife and Union Minister Harsimrat Kaur Badal also levelled the same charges against Kejriwal earlier this week and accused him of reaching out to the separatist elements of Punjab. She went on to claim that AAP supremo Arvind Kejriwal wss taking aide from Khalistani radicals to make electoral inroads in Punjab.
She said that AAP could end up reviving the Khalistani movement in Punjab due to its 'selfish politics'. Harsimrat claimed that the NRI support which AAP is receiving is mostly from those quarters of Punjabi diaspora who are aiming to revive the secessionist campaign.
AAP has faced the charges of seeking support from separatists time and again. Last year, AAP was accused of providing tactic support to hardline Sarbat Khalsa, saying that the gathering was an outcome of people's anger against the government.
The party had issued strong statement after the mass arrest of Sarba Khalsa activists in November. 
The party has rubbished all the allegations terming them the frustration of the ruling party which is looking at the imminent defeat in the upcoming polls. 
Reacting to Sukhbir Singh Badal on his charges that Kejrilwal stayed at the house of KCF commander, AAP national secretary Sanjay Singh said Punjab Deputy CM had found an easy escape route by terming everybody who questions him a terrorist, supporter of radicals and anti-national.  
He said Sukhbir was making "false, motivated and imaginary" allegations against party leaders, NRIs and people of Punjab, and calling them terrorists. 
He said the Deputy Chief Minister did not seem to be in his senses by blaming Kejriwal for staying at a home owned by an ultra. 
He denied the allegations and said in the same house Moga SHO Surinder Pal Singh and a Joint Commissioner were already staying. He asked if the officials were terrorists. 
"The house is in the name of Karanjit Kaur, wife of Gurinder Singh who is a citizen of UK," he said. 
He claimed that Gurinder was falsely booked in a case when he was not in India and was later acquitted by the court.