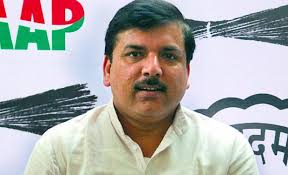 The Aam Aadmi Party (AAP) is not leaving any stone unturned in wooing different sections of society in Punjab ahead of the upcoming state Assembly elections.
As part of its efforts to wean away the influential farmer community from the ruling Akali Dal, the AAP is distributing forms to them declaring that it would waive off their loans after coming to power in the state.
From the past one week, such forms of assurance are being circulated door to door by AAP's Punjab affairs in-charge Sanjay Singh.
"We promised in our manifesto to waive off the loans of farmers and this is a move to help the farmers, who commit suicide due to loan and is not a stunt," Sanjay Singh said.
Last month, Delhi Chief Minister Arvind Kejriwal released AAP's 31-point farmers' manifesto promising several benefits, which included the loan waive off scheme.
Kejriwal promised to implement the 'Sir Chotu Ram Act' in the state and put an end to farmers' suicides by December 2018.
The AAP supremo also promised proper price for crops, making up for crop loss, free medical facilities to farmers etc.
Kejriwal also announced to raise the old age pension from Rs.500 to Rs.2000 per month and payment of Rs.20000 per acre compensation for the damage of crops due to drought, floods, pest attack and unseasonal rains.