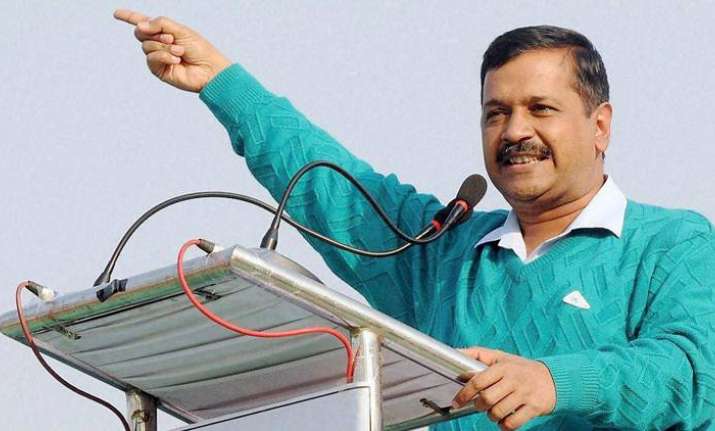 Saturday morning wasn't ordinary for Delhi Chief Minister Arvind Kejriwal. The Aam Aadmi Party that he had founded five years ago was looking for a breakthrough in Goa and Punjab, the two states where it had sought to make a presence and expand its national footprint.
Kejriwal had skipped his usual morning walk. Soon, other senior party leaders were seen entering his residence to keep a close watch on the election results that were being rolled out on television screens. The scenes outside were nothing less than celebratory. 
Since early dawn, hours before the trends began to trickle in, the area outside his house was seen decked up in balloons – of white, green and saffron – and loudspeakers blaring with the Slumdog Millionaire hit 'Jai Ho' just in case one missed to notice the nationalistic fervor.
Sadly, as the trends for all seats in Goa and Punjab start to fill in, the outcome is far from what Kejriwal and AAP leaders would have expected. The party, which had hoped to make a significant dent in the coastal state of Goa, failed to win a single seat. Its hopes of winning at least some seats with the help of its chief ministerial candidate Elvis Gomes failed to materialise – the party scored a big zero.
जनता का फ़ैसला सर माथे पे। सभी कार्यकर्ताओं ने बहुत मेहनत की। संघर्ष जारी रहेगा।

— Arvind Kejriwal (@ArvindKejriwal) March 11, 2017
The story in Punjab should hurt more. Annoyed by the constant interference of the Centre in governing Delhi – something that Kejriwal had left no stone unturned to allege at every given opportunity – Punjab promised the party an opportunity to display whether it could govern a full state and how well it could do it. Sadly, it wasn't to be!
The party, which had hoped of coming to power in Punjab, managed to win 20 seats out of 117, just ahead of the SAD-BJP alliance which is leading on 18 seats. Faced with anti-incumbency after a two-term rule, the SAD-BJP combine was never in contention anyway. However, it was the Congress that appears to have capitalized on it instead of the AAP. The Congress, which AAP had decimated in Delhi in 2015, surged ahead and is currently leading at 77 seats and is certain of a clear majority to form the government.       
Delivering on Punjab and governing it well would have done a world of good to the five-year-old party. First, it would establish AAP as a party than can rule and not just confront. Second, Kejriwal's attempts to position himself as a formidable opposition to Narendra Modi would have got a much-needed boost. And last but no less significant, victory in Punjab would formally have established it as a national party and firmly put it in contention for the 2019 Lok Sabha elections.
Reports have it that the AAP has begun ground work in many other states as well. Its next target appears to be PM Modi's home turf of Gujarat where the BJP is again faced with a strong wave of anti-incumbency. However, given the party's fortunes now, it appears unlikely that Kejriwal's brand of politics can make any significant dent to the popularity of Modi who is clearly on a roll.
The message for Arvind Kejriwal is loud and clear – it must shun its practice of negative politics to become a true force to reckon with. One must give it to Kejriwal and his party that no party has won two states within five years of its inception. However, AAP's ambitions are high, Kejriwal's even higher.
After the trends clearly put AAP far short of majority, Arvind Kejriwal took to Twitter to concede defeat and accept the verdict of the people. AAP leaders have said that it was time to 'introspect'. Hope they act on it!