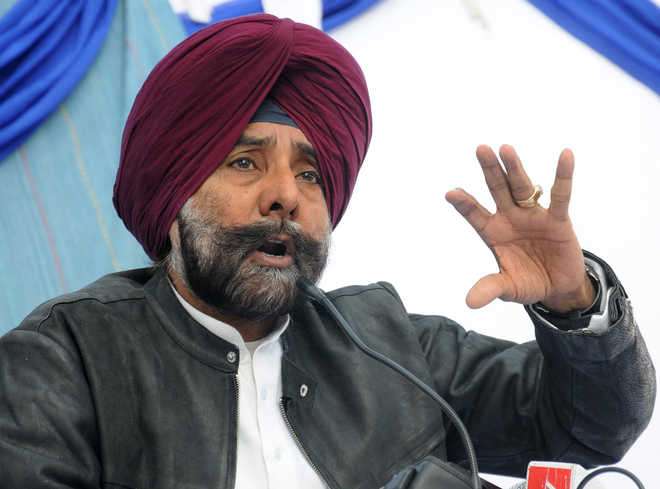 New Delhi: Cracking the whip, Congress Monday expelled senior leader Jagmeet Singh Brar, a known detractor of its Punjab unit chief Amarinder Singh, from the party in the wake of his consistent statements against the interests of the organisation.
"All India Congress Committee (AICC) has expelled Jagmeet Singh Brar, ex-MP, from the primary membership of the party with immediate effect," Party general secretary and incharge of Punjab affairs Shakeel Ahmed said.
He announced the action in a tweet, minutes after emailing a letter to the rebel leader telling him that he had not kept his word of not speaking anything on party matters in public fora.
"Even after messaging me through mobile phone that 'I will utter not a single word on the advice of the high command' you kept on tweeting and made statements in print and electronic media which were totally against the interests of the party in Punjab….
"Please consider this as your letter of expulsion," Ahmed said, adding AICC has decided to take action "after considering every aspect of the issue".
Party leaders said that the AICC has taken the action as Brar was attempting to demoralise and embarrass partymen through his statements in the state, where it is gearing up for Assembly election next year.
"He has been expelled for anti-party activities. His actions and statements were against the party and its leaders," Ahmed added.
The action came close on the heels of a host of senior party leaders from Punjab complaining to the high command demanding his expulsion.
Brar had turned a harsh critic of Amarinder from the day he was appointed as PCC chief and had even praised AAP's rally at the Maghi Mela in Muktsar.
Reacting strongly to his expulsion, Brar said he had been "condemned without hearing".
"I have just received an mail of General Secretary Shakeel Ahmad expelling me from the primary membership of the party. Condemned without hearing," he said on twitter.
Earlier this morning, Brar said, "Joint statements by Amarinder's core opponents against me makes my case more justified. Amarinder knows they are back stabbers, opportunists."
He also said that "the world knows, I am a common political target of Amarinder and Sukhbir in 2017, I will struggle and win."
Ahmed in his letter to Brar also recalled that he had sought his explanation on March 29 and he had sent three replies the next day.
In a series of tweets ahead of his expulsion on Monday, the rebel Congress leader had said, "High powered Disciplinary, A K Antony committee says, if both sides or groups issue statements, it amounts to grave indiscipline. 1-1. True.
"Press statements by some Congress leaders against me make the match 1-1 before the party leadership. Overstepping, challenge to High command."
He also posed a challenge to SAD leader Sukhbir Singh Badal saying, "Sukhbir Badal has called me a misguided missile knowing fully well this hit the right target in 1999 and now again in 2017. Be prepared."
Brar, a former Lok Sabha MP from Faridkot in Punjab, defeated Sukhbir Badal in 1999. Badal won the same constituency defeating Brar in 2004.
The former Congress Working Committee (CWC) member was suspended for his "anti-party" remarks after the party's defeat in 2014 Lok Sabha elections.
Brar had suggested that Sonia and party vice-president Rahul Gandhi go on a sabbatical to introspect on the reasons for the party's worst performance in the parliamentary elections. He also blamed the disconnect between party leadership and workers for the Congress rout.
Brar returned to the Congress fold in August last year after party president Sonia Gandhi revoked his suspension.
He also created a flutter in January this year when he praised Arvind Kejriwal's show at Muktsar, insisting that there was never such a huge rally in the poll-bound state.
"AAP, Maghi conference at Muktsar(Pb), a record breaker. Never before In Muktsar, so many people heard any leader from Punjab or India," he tweeted about Kejriwal's rally at Maghi Mela in Muktsar.
In a message to an AAP leader, he also tweeted, "This was Historic. Never before in History of Muktsar such a big responsive gathering." Brar later said he was speaking the "truth" and was only "ringing the bell", saying his remarks should be viewed as a call to the party "to wake up and step up its activities in the state and start connecting with the people".
Assembly elections in Punjab are scheduled early next year and a united Congress is making every effort to win back the state after ten years in the opposition.
Amarinder Singh is being projected as the face of the party in the state where it has also roped in political strategist Prashant Kishore to 'help and assist' the PCC in the polls.
Brar also announced that he would hold a crucial meeting at Chhappar Chiri in Mohali on May 21 to chalk out further strategy.
"After the expulsion 117/ AC/meet (assembly constituency meet) on 21st May/16, Saturday on Budh Purnima at Chhaperchiri near Mohali. Important address for Punjabiyat (sic)," he tweeted.
He also said, "I will show the world that Punjab has the talent on 21st May, 2016 gathering. It will be best speech of my lifetime. I assure brothers.
"By 21st May 2016, I will cover 60 Assembly seats to bring people for the gathering at Chhapperchiri."