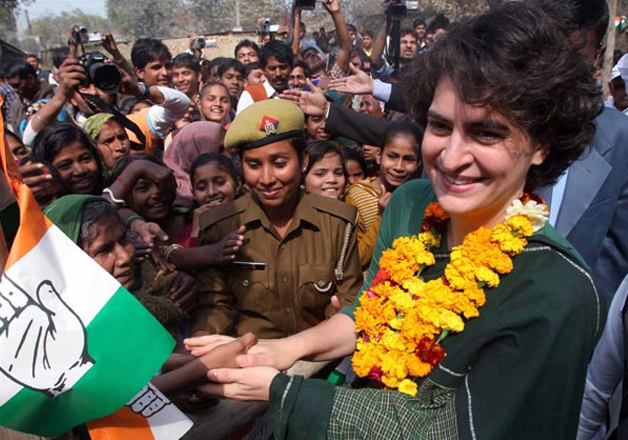 Amid demands that Congress president Sonia Gandhi's daughter Priyanka Gandhi join active politics ahead of the Uttar Pradesh Assembly to ensure party's victory in the politically crucial state, the party today said that she will play a "major role" in the UP elections. 
UP Congress campaign committee chairman Sanjay Singh today confirmed that Priyanka, who has so far confined her politics to garner support for her mother in Raebareli and brother Rahul Gandhi in Amethi, will campaign for party across the state and play a 'major role' in the Assembly election to be held early next year.
"She (Priyanka) is going to play a major role. Let everything be finalised," Singh said.
Uttar Pradesh Congress Committee chief Raj Babbar too said that Priyanka will actively campaign for the party and that once the elections schedule will be announced, it will bring more clarity on her plans for campaign.
"It has been decided that she will campaign for the party in the state elections. She has accepted our request to campaign. Whenever we will get her schedule, we will use her time accordingly," Babbar said.
Earlier, Babbar had said Priyanka's presence will give confidence and energy not just to the party cadre but also to the people across the state.
He had also mentioned that if she gives enough time then Priyanka could campaign in all the 403 constituencies in Uttar Pradesh.
A large section of Congress leaders believes that the party will gain immensely if she campaigns across the state.
Election strategist Prashant Kishor too had earlier suggested that 44-year-old Priyanka Gandhi should be given a key role.
The Congress party, which managed to bag only 28 seats in the 2012 assembly polls, wants to be the kingmaker this time. Several top Congress leaders had in past said that Priyanka has the potential to emerge as a mass leader.
In Uttar Pradesh, Congress had secured just two seats in the last Lok Sabha elections with party chief Sonia Gandhi and Rahul Gandhi emerging victorious from their traditional seats of Rae Bareli and Amethi, respectively.
The Congress is in political wilderness in Uttar Pradesh since 1989 following emergence of divisive 'Mandal-Mandir' politics and rise of the BSP, which took away its crucial Dalit vote base.