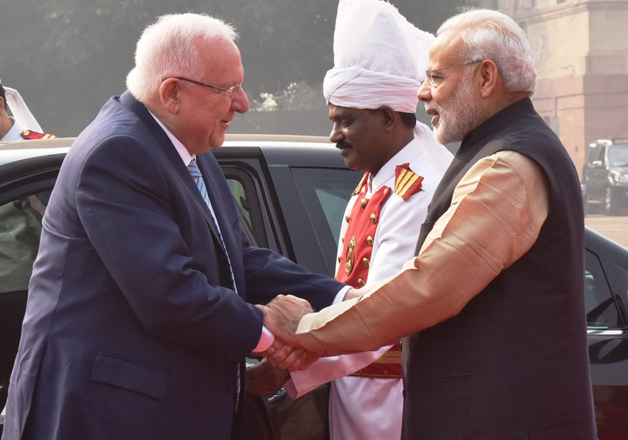 Israel President Reuven Rivlin, who is on a eight-day official visit to India, today received a ceremonial welcome in the forecourt of Rashtrapati Bhawan.
President Rivlin was received and welcomed by his Indian counterpart Pranab Mukherjee and Prime Minister Narendra Modi, with whom he would hold bilateral talks later in the day.
"I am very honoured and very pleased to be the guest of President Mukherjee. He was along with us a year ago and we are very privileged and honoured today to be here in your great country in India. Thank you so much for welcoming me Mr President," Rivlin told the media after receiving the ceremonial welcome.
President Mukherjee will also host a banquet in his honour.
The meeting between President Rivlin and Prime Minister Modi will take place later today at the Hyderabad House, which will be followed by the signing of agreements and press statement. 
From the ceremonial welcome for @PresidentRuvi, who is on a visit to India. pic.twitter.com/KgiQqzAjUD

— PMO India (@PMOIndia) November 15, 2016
The focus of the talks is likely to be on agricultural cooperation between the two sides. India and Israel have excellent relations in the areas of economy and commerce, science and technology, research and innovation, culture, tourism, and education. 
During his stay here, Rivlin will also meet business leaders of both of India and Israel. He will visit Centre of Excellence in Agriculture in Karnal and participate in Agro Tech - 2016. 
Rivlin is the second Israeli President to visit India since the establishment of diplomatic ties between the two countries in 1992 and his visit comes almost after a gap of 20 years since former President Ezer Weizmann visited India in 1996-97. 
On Wednesday, Rivlin will be visiting the Taj Mahal in Agra, followed by a visit to Uttar Pradesh Jal Nigam Water Treatment Plant at Sikandra.
Yesterday, he had pledged full support to India in fighting terrorism and said friendship between India and Israel is at work "day in, day out" and is not a relationship "we should be hiding".
In an interview to PTI, the Israeli President acknowledged differences with India on the Palestinian issue but spoke warmly about the growing Indo-Israeli ties as the two countries prepare to celebrate 25 years of establishment of full diplomatic ties between them next year. 
"Terror is terror is terror, whoever carries it out and whoever are its victims. And we all have the duty to condemn in our words, and fight with our deeds against this terrible evil," asserted the President, whose country is one of the biggest suppliers of defence equipment to India and is cooperating with it in a major way in dealing with terrorism.