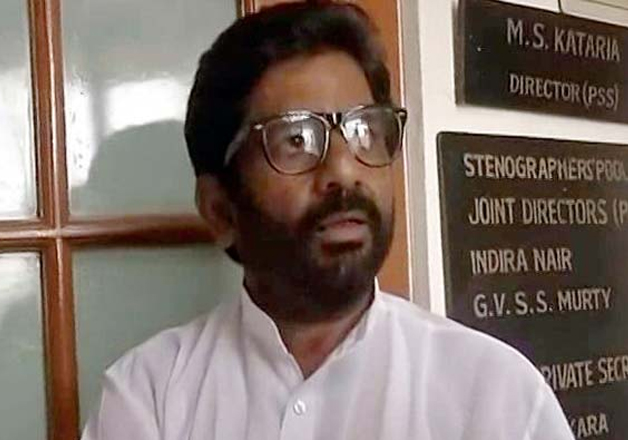 Immediately after national carrier Air India blacklisted Shiv Sena MP Ravindra Gaikwad following his brazen assault on an officer, four private Indian carriers barred the lawmaker from flying.
The Federation of Indian Airlines (FIA), having Jet Airways, IndiGo, SpiceJet and GoAir as its members, said that it has taken a 'strong view of the incident' and accordingly decided to bar Gaikwad from flying.
The FIA will not allow the Sena MP to fly on its member carriers, new agency PTI confirmed the development claiming a source. 
On the other hand, Air India canceled Gaikwad's return ticket to Pune for today. 
In a statement issued later, Air India and FIA said, "Air India and the member airlines of the Federation of Indian Airlines (FIA) that includes IndiGo, Jet Airways, SpiceJet and Go Air, condemn the assault on an Air India staff member by a passenger who happens to be a Member of Parliament on March 23, 2017. The airlines demand that strict action be taken against the Member of Parliament by law enforcement agencies. We believe that an assault on any one of our employees is an assault on all of us and on ordinary law abiding citizens of our country who work hard to earn a living."
"Air India and FIA member airlines have decided to ban this Member of Parliament from flying on all our flights with immediate effect. We believe that exemplary action should be taken in such incidents to protect employee morale and public safety," the statement added.
"In the interest of the safety and security of our colleagues and other customers we also propose the promulgation of a 'no fly' list which shall include the names of all unruly passengers. Such customers are not welcome on our carriers and we seek the support of the government and security agencies to enforce such a 'no fly' list," it further said.
Meanwhile, Budget carrier IndiGo said that it will support any move which bars unruly passengers from flying, a day after Air India said it was mulling preparing a no-fly list for such people. 
"We will support a no-fly list," IndiGo president and Whole Time Director Aditya Ghosh said. 
Yesterday, Gaikwad had repeatedly hit a 60-year-old Air India officer with sandal, as he was not able to travel in business class despite having insisted on boarding an all-economy flight. 
The national carrier has filed two FIRs against the MP, while the Shiv Sena has sought an explanation from him.