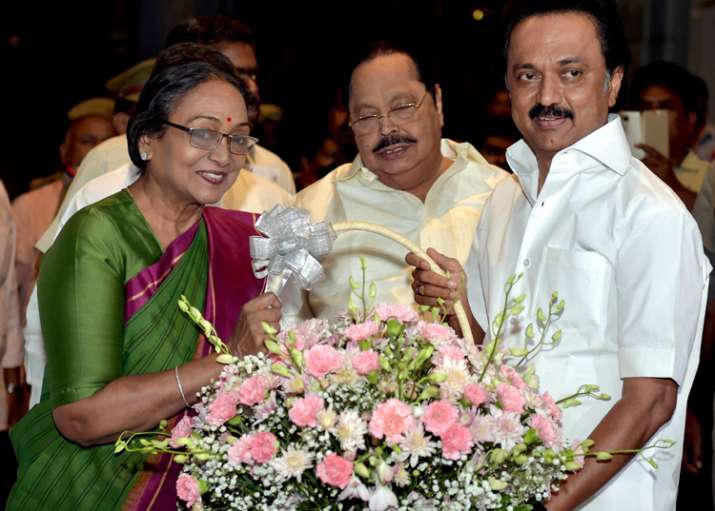 Opposition's Presidential nominee Meira Kumar, who has been visiting various states as part of their campaign for the top constitutional post, today appealed to all the MLAs and MPs from Tamil Nadu to listen to their "inner voice" when they cast their votes in the polls on July 17. She urged them to support her in "this ideological battle". 
"I am fighting an ideological battle," she told reporters after a meeting here with MPs and MLAs of DMK, Congress, IUML and the Left parties. She said, the collegium members should only listen to their inner voice and conscience and act. "This is my request to everyone." 
DMK working president M K Stalin, his party legislators, Left parties MPs TK Rangarajan (CPI-M) and D Raja (CPI), Congress party MLAs, and leaders participated in the meeting. 
Besides DMK's 89 MLAs, Congress's eight and IUML's lone MLA ruling AIADMK Amma's ally M Thamimun Ansari, MLA representing Nagapattinam has pledged support to Kumar. The DMK also has four Rajya Sabha MPs and CPI and CPI(M) have one RS MP each from Tamil Nadu. 
She alleged that principles like transparency and the fight to end the caste system are "under threat" in the Modi regime. 
"I am sorry to say that all the 17 Opposition parties (who have supported her) feel that these principles are now in danger, under serious threat." 
Kumar said she was honoured by the trust the 17 parties led by the Congress have show in her. "This Opposition unity is inspired by the value system which we all hold so dear." 
She said she dedicated her life for the cause of the downtrodden and suppressed people. "This is my agenda. Wherever I go and whatever position I hold, this will always be my agenda."
She praised Tamil Nadu as a state which fought for ideals like social justice and hailed DMK chief M Karunanidhi as a force in upholding such great values. 
"That is the binding factor that we have between the DMK and the Congress." 
Hitting out at the BJP-led Centre, Kumar said her party was inspired by Gandhiji's thoughts to ensure the dignity of the Dalits, the tribals, and the poor. 
"My battle is to ensure their right and dignity... I am also fighting for all of you because we are pained to see that lately the voice which used to come out so strongly in the press is not coming out," she said. 
Later, Kumar called on nonagenarian leader M Karunanidhi at his Gopalapuram residence. 
She is scheduled to visit Puducherry tomorrow. Senior Congress leaders Bansal, Mukul Wasnik also participated in the meet.
Kovind, Meira to visit Hyderabad for campaign 
NDA's presidential nominee Ram Nath Kovind and his rival Meira Kumar would visit Hyderabad this week to drum up support for their candidature from legislators in Telangana. While Kumar, the joint opposition candidate, would arrive here tomorrow, Kovind's visit is scheduled for Tuesday. 
During her day-long visit, Kumar would meet Congress leaders at Gandhi Bhavan, Telangana Congress headquarters, followed by a media conference, according to her schedule released by the party. 
The former Lok Sabha Speaker would garland a statue of her father late Jagjivan Ram and interact with MPs, MLAs and MLCs, Left party leaders, senior journalists and intellectuals. 
Kovind, on the other hand, would visit Hyderabad on July 4, Telangana BJP spokesperson Krishna Sagar Rao said today. 
During the day-long visit, he is expected to meet MPs and MLAs of the ruling TRS, opposition BJP and Telangana TDP. 
While the TDP is a constituent of the NDA, the TRS has announced support for Kovind's candidature. 
After their nomination last month, Kumar and Kovind have been visiting various states as part of their campaign for the top constitutional post. 
BJP hopeful of cross-voting from opposition ranks 
The BJP expects cross-voting from opposition ranks, especially in Uttar Pradesh and Bihar, in favour of NDA presidential candidate Ram Nath Kovind. The internal bickering in the Samajwadi Party, some of whose MLAs owe allegiance to Mulayam Singh Yadav and his brother Shivpal Yadav, coupled with the fact that Kovind is a son of the soil could nudge a section of its lawmakers to vote for him, sources said. 
The SP and BSP have 54 and 19 MLAs in the 403-member UP assembly. The SP has five Lok Sabha members and 18 in the Rajya Sabha. The BSP has six members in the Rajya Sabha. 
The poll is scheduled for July 17 and the counting of votes will take place on July 20.