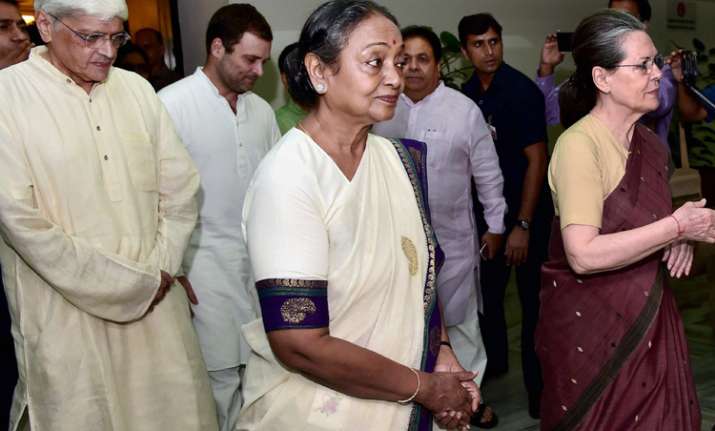 Congress president Sonia Gandhi today said the presidential election tomorrow demands a "vote of conscience" as she described the  the contest between Opposition candidate Meira Kumar and NDA nominee Ram Nath Kovind as a fight against a "narrow-minded, divisive and communal vision". She said the election represents a clash of ideas and conflict of disparate values. Her remarks came while addressing a gathering of opposition parties here where its presidential and vice presidential nominees, Meira Kumar and Gopal Krishna Gandhi respectively, were formally introduced. The presidential election will take place tomorrow where MPs and MLAs across the country will vote to choose the next President of India. 
The Congress leader said, in these contests, the numbers may be against them but "the battle must be fought and fought hard". She asked the electors to exercise a "conscience vote". 
"We cannot and must not let India be hostage to those who wish to impose upon it a narrow-minded, divisive and communal vision," she said. 
According to the text of her speech, she said, "We must stand more aware than ever of who we are, what we fought for in our independence struggle and what future we want for ourselves. 
"We must have confidence in the values we believe in. This election represents a clash of ideas, a conflict of disparate values. The election demands a vote of conscience to preserve the India that the Mahatma and that illustrious generation of freedom fighters, joined by thousands upon thousands of ordinary men and women, fought for," she said. 
She said the presence of representatives from different parties to support Kumar and Gopal Gandhi confirms that "the fight for an inclusive, tolerant and pluralistic India is being truly waged". 
The vice-presidential poll will be held on August 5. 
Besides Sonia, the Congress was represented by Manmohan Singh, Rahul Gandhi and other MPs at the Opposition meeting. Jayparakash Yadav and Taslimuddin from the RJD, Tariq Anwar and Majid Menon from the NCP, Ramgopal Yadav and Naresh Agarwal from the SP, Derek O'Brien and Sugata Bose, and Shibu Soren from the JMM attended the meet. 
The JD(U), which skipped the all-party meeting convened by the government this morning, stayed away from the opposition event too.
"We know Meira Kumar as the former speaker. But many had not met Gopal Gandhi. It was a sort of formal introduction with them," said CPI-M's Sitaram Yechury.
Gandhi said Kumar and Gopal Gandhi have, with tremendous dignity and commitment, distinguished themselves throughout their long careers. "Through their work and their lives they have also advocated those very values and principles that have defined and guided India for the last 70 years," she told the gathering.
(With PTI inputs)