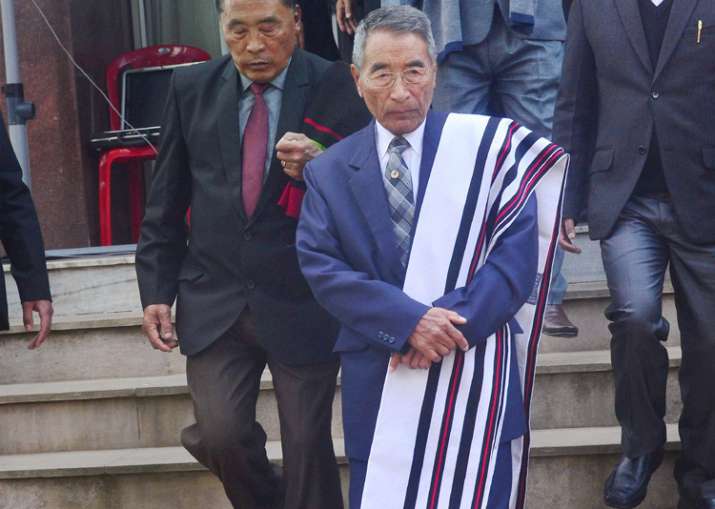 Nagaland Chief Minister Shurhozelie Liezietsu, who has been challenged by his party colleague, was today left red-faced after being stopped from entering the Assembly hall, where polling for the presidential election was underway. According to a PTI report, the security staff stopped the Chief Minister as he is not an elected member of the Assembly and was not eligible to vote in the polls. The chief minister, however, said that he only intended to enter the hall to oversee the security arrangement and logistics. Security officers posted at the entrance of the hall blocked his entry, creating some misunderstanding between his officers and the Assembly staff, PTI reported, quoting Assembly sources.
Liezietsu, who is battling a coup, lamented the treatment meted out to him. Interacting with the media, Liezietsu said, "As the head of government, I went round to see if proper security and logistics were arranged properly."
He said that a staff of the Assembly pulled him from behind as he was crossing the polling hall. The chief minister said that he had officially intimated to the Assembly Secretariat about his visit yesterday.
The CM also regretted that the Assembly Secretariat had appointed a dissident MLA as election agent without consulting the government.
"Assembly is supposed to be above party politics," he said.
Meanwhile, all 59 elected representatives - 47 belonging to NPF, four to BJP and eight Independents - exercised their franchise in the presidential election.
Irrespective of the leadership crisis in the Nagaland People's Front (NPF), legislators supporting Liezietsu reached the venue in a group and cast their votes. So did the 43 dissident MLAs supporting former chief minister T R Zeliang.
Liezietsu was sworn in on February 22 after Zeliang resigned following violent protest by tribal groups who were opposed to his move to hold civic polls with 33 per cent women's reservation. Political instability has come up when Liezietsu is gearing up for the July 29 by-election from the Northern Angami-I assembly constituency.
The rebellion within the legislature party erupted as some members accused Liezietsu of indulging in "nepotism" by appointing his son Khriehu Liezietsu as his advisor with cabinet status and pay.
Liezietsu has been asked by Governor P.B. Acharya to prove his majority on the floor of the assembly.  
(With PTI inputs)