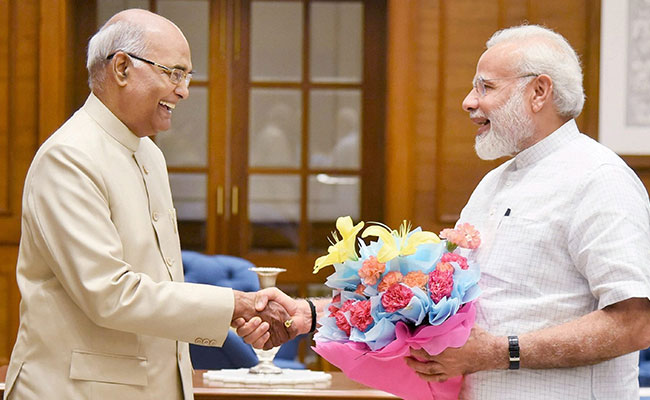 Prime Minister Narendra Modi on Tuesday congratulated Ram Nath Kovind after he was sworn in as the 14th President of India.
PM Modi took to Twitter to express his happiness: "Congratulations to Shri Ram Nath Kovind ji on taking oath as the President of India. @RashtrapatiBhvn". 
He also hailed President Kovind's speech as 'inspiring'.
"Very inspiring address by President Ram Nath Kovind Ji, which beautifully summed up the essence of India's strengths, democracy and diversity," tweeted PM Modi. 
The Prime Minister also said that Ram Nath Kovind's swearing-in as the new President is a "significant milestone" in the journey started by BJP ideologue Shyama Prasad Mukherjee.
Modi made these remarks, according to party sources, at the BJP parliamentary party meeting held before Kovind was sworn in as the 14th President of India. 
"The journey, which was started by Shyama Prasad Mukherjee and during which many lakhs of people sacrificed everything, has reached a significant milestone today as the new President takes oath," Modi told party MPs, a BJP leader present in the meeting said.
The Prime Minister's comments assume significance as Kovind is the first BJP leader to occupy the highest constitutional position and the President's Dalit identity and humble origins have been underlined by the party, which has worked relentlessly to win over the community since coming to power in 2014.
In his maiden speech as the President of India, President Kovind said, "I thank you for electing me to the responsibility of the President of India, and I enter this office with all humility. I have been a Member of Parliament and here, in this very Central Hall, have had discussions with many of you. Often we agreed, sometimes we disagreed. But we learnt to respect each other. And that is the beauty of democracy". 
He added that India believes in philosophy of 'World is one family', adding there is a lot to be achieved. "We have to take India to great heights. I feel privileged to walk on the same path as Dr. Radhakrishnan, Dr. Abdul Kalam and Pranab da," the President said. He also asserted that a nation grows when the development for all is ensured.