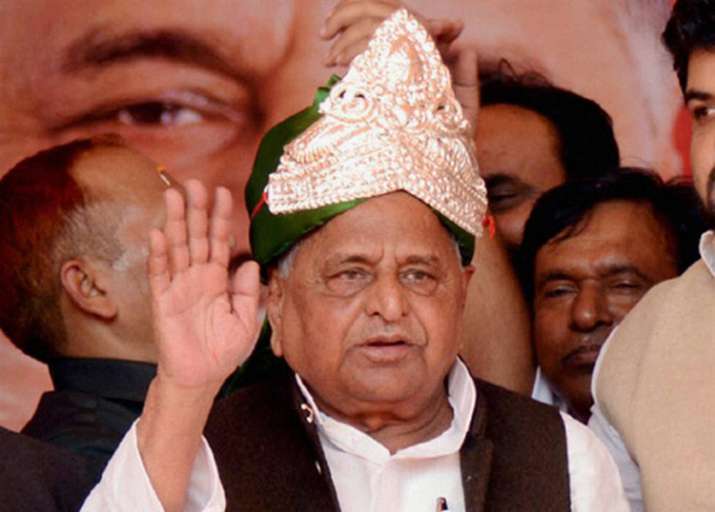 Samajwadi Party president Mulayam Singh Yadav has warned his partymen against "dabangai" (strong arming), saying the elections can not be won with such tactics. 
At a rally in Uttar Pradesh's Ghazipur on Wednesday, the SP supremo also asked his partymen to shun groupism and back-biting.
"Shun groupism...instead of being supporters of any individual, you should back Samajwadi Party...the (true) wellwishers of the party have been identified as well as who all are wellwishers of those indulging in wrong practices.
"I want unity in the party and a government with clear majority...this is my target," Yadav said as the ruling party geared up for the do-or-die Assembly polls few months later. 
Addressing party workers in the bastion of Ansari brothers who have since merged their Quami Ekta Dal (QED) with SP, he said this will further strengthen the party in Purvanchal and ensure impressive victory in the coming elections. 
"Afzal Ansari and his brother have come at a time that it has strengthened the SP...althougth some within the party had opposed it, but Shivpal cooperated and I got the Ansari brothers into the party," he said. 
In an apparent reference to youth-wing workers leading a campaign during the recent family fued in SP, Yadav said, "Workers should tell him and other office bearers about the shortcomings and wrong doings in the government and party in a disciplined manner as this it their right but still people are indulging in groupism and back biting...back biting never improves anyone's image." 
"I have said it several times that they (youth leaders) have to take care of the government and party in times to come ...they should prepare themselves for it by maintaining discipline and reading socialist literature," he said. 
"As far as SP is concerned, it faces many challenges... some want to weaken the party by back biting...will say something on my face and something else on my back," he said. 
The SP chief who kicked off his election campaign here said, "This rally is taking place at a time when elections are round the corner...some people want that SP gets weak but the people of Ghazipur and nearby places have proved that no one can compete with SP. 
"SP government is working for the poor, farmers and traders...take a resolve in this historic meeting before going to work for bringing the party back to power with a big 
mandate," he said. 
On the importance of the area for the party, the SP chief said, "Ghazipur has a historic importance for socialists...not many people know that Socialist Party was formed here." 
It was perhaps the sizable influence of the Ansari brothers, two of whom Mukhtar Ansari and Sigbatullah Ansari are MLAs, in Mau, Ghazipur and surrounding areas especially among the Muslims, that Mulayam brushed aside all opposition, including from his son Akhilesh, and formalised the merger. 
Incidentally, the QED merger was the first development which brought to the fore differences among members of the first family of the SP but after a flip-flop for months, the merger was done with the condition of keeping Mukhtar out. 
Mulayam's preference of Ghazipur over his parliamentary constituency Azamgarh to launch his electioneering also proved the importance he has attached to the region and his faith in the Ansari brothers. 
Before the start of Yadav's speech, leaders of two factions of SP clashed and hurled chairs at each other but police intervened to bring them under control.
(With PTI inputs)