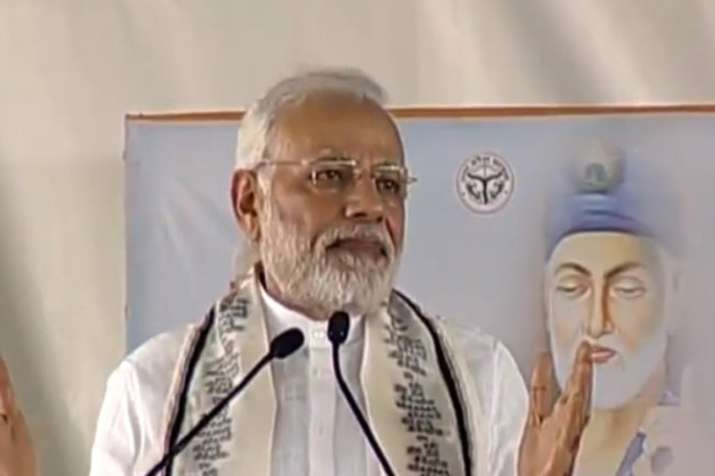 Prime Minister Narendra Modi was in Maghar, some 200 km from his Lok Sabha constituency Varanasi, on Thursday to lay the foundation stone of a Rs 24-crore research academy which he said will highlight 15 century poet Kabir's teachings and thoughts. Speaking at a public gathering after offering tributes at Kabir's mazar, PM Modi chose his words cautiously while making stinging attack on Samajwadi Party chief Akhilesh Yadav and his Bahujan Samaj Party counterpart Mayawati. 
 PM Modi started his speech in Bhojpuri triggering a huge applause from the crowd. In his address, the PM also gave hints to local party workers to start preparations for the 2019 Lok Sabha polls as per BJP's motto 'Sabka Saath, Sabka Vikas'. "Kabira khada bazaar mein, chahat sabki khair, na kahu se dosti, na kahu se bair," PM Modi recited one of Kabir's couplet in what could be seen as his way of sending out a message for the party leaders to reach out to people across the religious, caste spectrum of the society.
Without taking names of Akhilesh and Mayawati, PM Modi said people like Kabir and Baba Saheb Ambedkar fought for equality in the society but lamented that their teachings are now being used by a few parties for their own political gains. 
Highlights of PM Modi's speech Maghar
"Ambedkar advocated for equality in society but unfortunately there are parties that are using his ideals for political gains. People who claim to follow Kabir are more worried about big bungalows," PM Modi said in an apparent dig at former Uttar Pradesh CM Akhilesh Yadav over the bungalow row.
The PM also slammed the Congress and other Opposition parties for blocking the government's efforts to get Parliament's approval over Triple Talaq Bill. He said parties are now joining hands to derail the government's commitment to work for the empowerment of the underprivileged. 
कुछ दलों को शांति और विकास नहीं, कलह और अशांति चाहिए
उनको लगता है जितना असंतोष और अशांति का वातावरण बनाएंगे
उतना राजनीतिक लाभ होगा।

सच्चाई ये है ऐसे लोग जमीन से कट चुके हैं
इन्हें अंदाजा नहीं कि संत कबीर, महात्मा गांधी, बाबा साहेब को मानने वाले हमारे देश का स्वभाव क्या है: PM

— PMO India (@PMOIndia) June 28, 2018
"You know who are trying to block our efforts to ban Triple Talaq. They are joining forces to derail our efforts. They are trying to divide the society while we are working to uplift the downtrodden and poor," PM Modi.
Situated about 200 km Varanasi - Maghar - in eastern Uttar Pradesh's Sant Kabir Nagar is considered to be 'gateway to hell' because of the superstition attached to it. It was believed that anyone who dies here goes to hell. 15th century poet Kabir had travelled to this place in his attempt to dispel the superstition. Kabir breathed his last in Maghar. 
Watch: What PM Modi said in Maghar
​