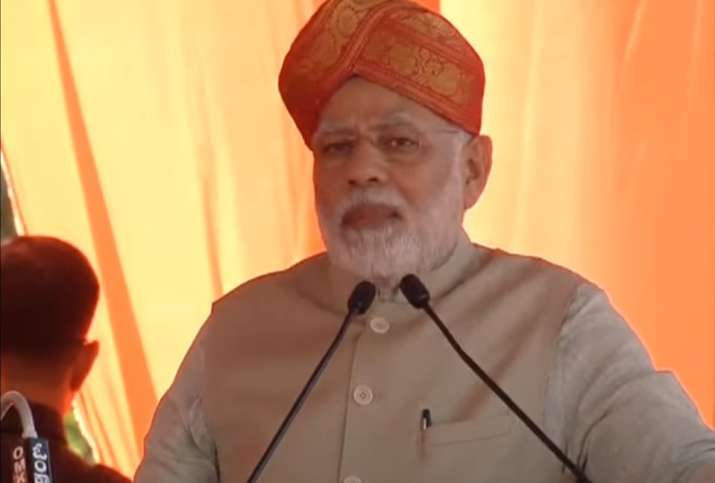 Prime Minister Narendra Modi, who arrived in Bengaluru late last night for a two-day visit, flagged off Humsafar express in the presence of Karnataka Chief Minister Siddharamaiah.  
During his stay in the poll-bound state, the PM will participate in various public functions.
PM Modi also addressed a party rally at the Maharaja Grounds in the city centre. The rally was reportedly attended by people from all five districts comprising the Old Mysuru region – Mysuru, Mandya, Hassan, Kodagu and Chamarajanagar.
As it happened: 
Watch video: PM Modi addresses Public Meeting in Mysuru
04:58 pm: In 2022, India will enter 75 years of its independence. We should work towards making an India which is just like what our freedom fighters had dreamt of: PM Narendra Modi
04:50 pm: What do you need? A govt of commission or a govt of mission? A govt which asks for 10% Commission to work or a govt which works with the mission for development?: PM Narendra Modi in Mysuru​
04:50 pm: People of Karnataka have to choose if they want a commission govt or a mission govt: PM in Mysuru
04:45 pm: Post-independence your party had ruled for 70-80% of the time. You are demanding things and facilities today. If you really feel about those things why didn't you do something when you were in power for 50 years: PM Narendra Modi in Mysuru
04:43 pm: Congress is working to divide the society. If the current government continues in the state, the downfall is guaranteed: PM
04:42 pm: We would also build a world-class satellite station for Mysuru and more than Rs 800 Crore would be spent on it. This will be a modern railway station: PM Narendra Modi in Musuru
04:40 pm: I would like to announce that the widening of Bengaluru-Mysuru National Highway will be done with an investment of Rs 6400 Crore: PM Narendra Modi in Mysuru
04:30 pm: This Palace Queen Humsafar Express train which connects Musuru to Udaipur is a historical step & would boost tourism: PM Narendra Modi in Mysuru
04:20 pm: If we have to fulfill the needs of the poorest of the poor then we need to strengthen our railway network. We are working towards this since last four years: PM Narendra Modi in Mysuru
04:15 pm: PM Modi addressing a public meeting in Mysuru after flagging off Humsafar express
04:10 pm:
Mysuru: PM Narendra Modi flags off Palace Queen Humsafar Express train between Mysuru & Udaipur. CM Siddaramaiah also present pic.twitter.com/F2q00wzjIl

— ANI (@ANI) February 19, 2018
2:15 pm: The Prime Minister will commission 140-km fully-electrified Bengaluru-Mysuru rail track and flag off the Humsafar Express train from Mysuru to Udaipur in Rajasthan. 
PM Narendra Modi to flag off Palace Queen Humsafar Express between Mysuru & Udaipur later today. pic.twitter.com/AwLO26pIcF

— ANI (@ANI) February 19, 2018
# Our Saints and seers have always served society & made a positive difference. The strength of our society is that we have always changed with the times and adapted well to new situations: PM Modi in Shravanabelagola for Bahubali Mahamasthakabhisheka Mahotsav
#Karnataka: Prime Minister Narendra Modi arrives in Shravanabelagola for the Bahubali Mahamasthakabhisheka Mahotsav pic.twitter.com/Baw1w8gyQh

— ANI (@ANI) February 19, 2018
It is Modi's second visit to the southern state in a fortnight. He had paid a three-hour visit to Bengaluru on February 4 to address a BJP rally to mark the culmination of the 90-day "Nava Karnataka Nirmana Parivartana Yatre" (journey to build a new Karnataka). 
The Assembly elections in Karnataka are due in late April or early May. 
Security heightened in view of Modi's visit
In view of the PM's visit, security has been tightened in the city. An official said that there is tight security all along the route from where PM Modi will travel. 
Besides, SPG and NSG commandos, heavy state police personnel have been deployed to guard the airport, hotel, railway station and Maharaja Grounds.
The PM's route is cordoned off and converted into a zero-traffic zone, the official added.