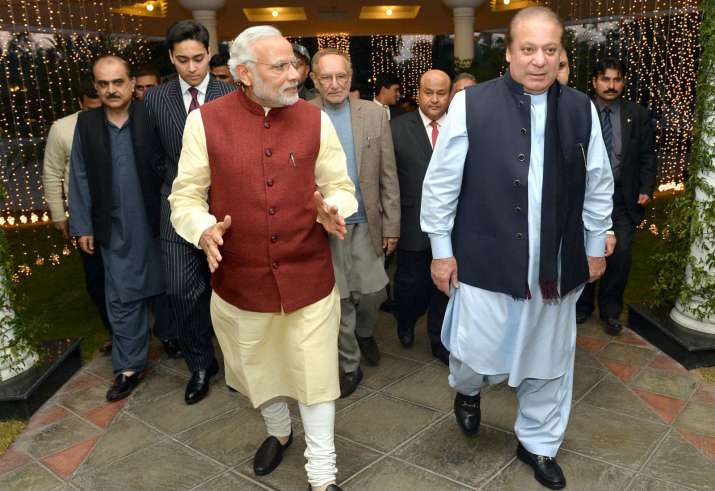 Even as the tension between the two countries remain high, Prime Minister Narendra Modi today greeted his Pakistani counterpart Nawaz Sharif on Pakistan's National Day and said India wants to have good neighbourly relations with it in an "environment free from terror and violence."
Modi wrote a letter to Sharif to wish him on the Pakistan National Day which was celebrated across the Islamic country. 
In the letter, Modi said India wants to have good relations with all its neighbours, including Pakistan, the sources said. 
President Pranab Mukherjee also sent a message to his Pakistani counterpart Mamnoon Hussain yesterday, saying India is committed to building ties with Pakistan in an environment free from terror and violence. 
The Indian leaders' greetings come amid unease in Indo-Pak ties following a series of terrorist attacks on army camps and tension along the border due to frequent ceasefire violations. 
Pakistan's National Day marks the adoption of historic Lahore Resolution this day in 1940 that provided a framework for a separate homeland for Muslims of South Asia.
The Day dawned with 31-gun salute in the Islamabad and 21-gun salute in provincial capitals.    
Addressing as Chief Guest the ceremony of Pakistan Day Parade in Islamabad, President Mamnoon Hussain said the country "want peace and friendship with the whole world specially the neighbours."
"India's irresponsible attitude and consistant violations of Line of Control and Working Boundary have jeopardized peace of the region," he said. 
Pakistan's High Commissioner to India Abdul Basit in his Pakistan Day speech at the Embassy here also said that Islamabad wants to have a good and peaceful relationship with New Delhi and resolve all issues.
"Our policy is to promote peace, especially in Asia, where we have tried to have better ties with all our neighbours. These ties must be based on equal footing and loyalty and our efforts have been in that direction," he said. "As far as the Jammu and Kashmir issue is concerned, it should be resolved as per the aspirations of Kashmiris and hopefully it will be.
"We hope that we will resolve the issue but as per the aspirations of Kashmiris (unki umangon ke mutabik ho)," he said.