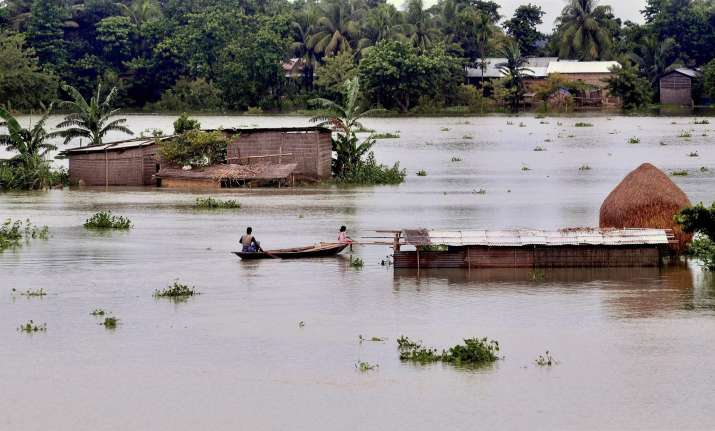 New Delhi: Prime Minister Narendra Modi on Wednesday said he was anguished over the flood situation in various parts of the Northeast and promised all possible help from the Centre. In Assam, 39 people have lost their lives in this years' flood, including eight in Guwahati, and over 15 lakh people across 23 districts have been affected by the deluge. 11 people were killed in landslides and floods in different districts of Northeast yesterday. The Prime Minister said he has asked Minister of State for Home Kiren Rijiju to personally supervise the rescue and relief operations and facilitate all possible help needed. 
Modi said he had spoken to Arunachal Pradesh Chief Minister Pema Khandu and officials, both in Delhi and the states, on the flood situation. 
"I am anguished by the situation arising due to floods in various parts of the Northeast. I share the pain of all those affected by floods," Modi tweeted. 
"The entire nation stands with the people of Northeast during this time. Centre assures all possible help to normalise the situation," he added in another tweet. 
Five persons were killed and nine went missing yesterday as a massive landslide triggered by incessant rains hit eight dwellings in Arunachal Pradesh's Papum Pare district. In Assam, the flood situation deteriorated further yesterday, with six more people losing their live.
Rijiju to lead central team to supervise rescue and relief operations 
Rijiju will lead a high level central team tomorrow to supervise the rescue and relief operations in flood affected different parts of North East.  
The team will visit Arunachal Pradesh, Assam and Manipur from July 13 to July 15 and include members from National Disaster Management Authority (NDMA), National Institution for Transforming India (NITI Aayog) and National Disaster Response Force (NDRF). All (Defence and CAPFs) forces along with state agencies are involved in the rescue and relief operation in these states and if situation arises, additional central forces can be deputed from other parts of the country, an official statement said.