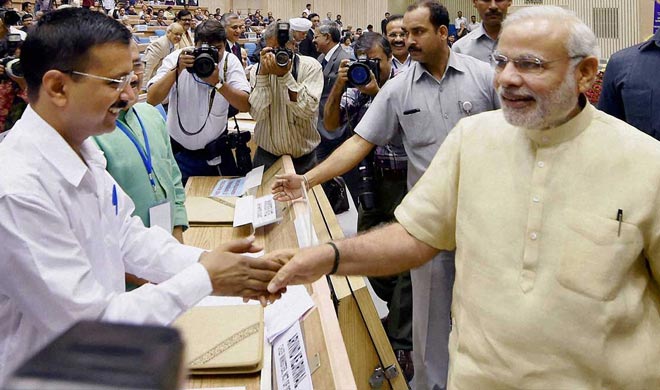 Forgetting all political differences, PM Narendra Modi today wished Delhi Chief Minister Arvind Kejriwal a "long life" and "good health" on his 48th birthday.
Kejriwal ,the Aam Aadmi Party (AAP) supremo, thanked PM Modi for his good wishes.
Birthday greetings to Delhi CM @ArvindKejriwal. I pray for his long life and good health.

— Narendra Modi (@narendramodi) August 16, 2016
Thank u so much sir. https://t.co/SadCCp96du

— Arvind Kejriwal (@ArvindKejriwal) August 16, 2016
Interestingly, Arvind Kejriwal had alleged last month that PM Modi could even "get him killed."
Kejriwal had also accused PM Modi of trying to finish-off Aam Aadmi Party (AAP) and dubbed him the "mastermind" behind the "cycle of oppression" going on against his party leaders.
Arvind Kejriwal turns 48 today. He has been at loggerheads with the Prime Minister almost on a daily basis right from day one of taking over as Delhi CM.
On Monday, the Delhi Chief Minister was seen sleeping during PM Modi's Independence Day speech at the Red Fort.
The Aam Aadmi Party (AAP) tried to justify it by saying that PM Modi's speech was so boring that he should be awarded  "Olympic gold" for that.