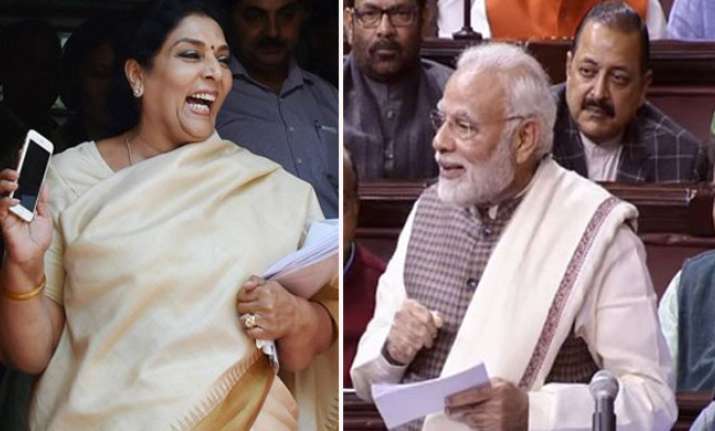 Prime Minister Narendra Modi's speech in Rajya Sabha today had some hard hitting and some hilarious moments. In a power-packed speech, PM Modi attacked the Opposition not only with facts and satire but also with his wit. 
In a proof of his spontaneous sense of humour, PM Modi today took a mocking laughter and turned it into a smile for all in the House. 
The incident took place when PM Modi referred to an old speech of ex-Home Minister and ex BJP President L K Advani made twenty years ago. When the PM proceeded to mention AADHAR was actually conceptualised here (the parliament), Congress MP Renuka Chowdhary started laughing hysterically.
Also read | PM Modi's speech on Motion of Thanks to President's address in Rajya Sabha: 30 Top Quotes
Rajya Sabha speaker and Vice President Venkaiah Naidu did not take kindly to her sudden and loud laughter. He not only chided Renuka Chaudhury for 'loose and unruly behaviour' but also advised her to visit a doctor if she has a problem.
But refusing to spoil the moment, PM Modi requested the speaker that he must not stop Renuka Chowdhury. He added further, "many years after Ramayan we are getting to hear such a hearty laughter."
The PM's remark made the Rajya Sabha erupt with laughter. While Renuka Chowdhury stopped promptly, Twitter enjoyed the moment for quite a while. 
Modi hit ball out of park and Renuka Chowdary stumped. #ModiHitsBack https://t.co/fBUPouIoJb

— Srivatsan Sridharan (@Srivatsan_91) February 7, 2018
Modi teared Renuka Chowdary into pieces by comparing her to Soorpanaga. #ModiHitsBack https://t.co/kEWDAr0tYE

— Srivatsan Sridharan (@Srivatsan_91) February 7, 2018
The MP, however, did not take the remark in jest. Talking to media outside the Parliament on Wednesday evening Chowdhary slammed the prime minister for the personal remark. 
"PM made a personal remark, what else do you expect from him? I can't  fall to that level to reply to him. This is actually called denigrating the status of a woman," Congress leader told media.