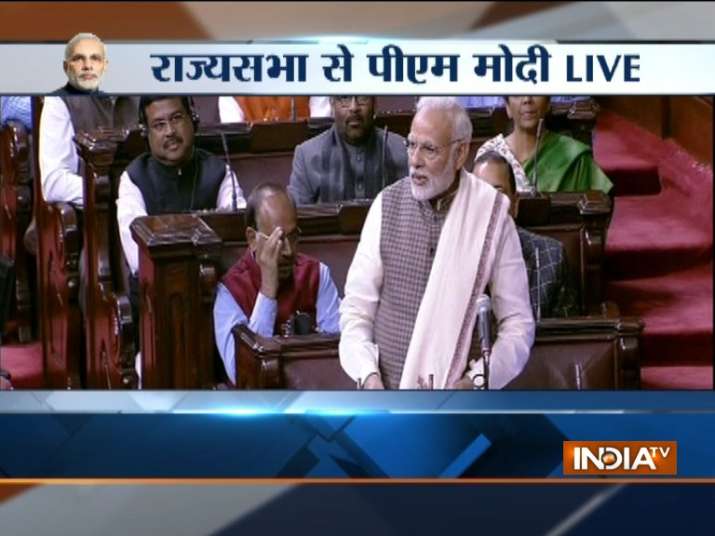 After frontal attack on Congress in his speech on Motion of Thanks to the President's address in Lok Sabha, Prime Minister Narendra Modi continued his tirade against the Opposition in Rajya Sabha also.
Here are the top quotes from PM Modi's speech on Motion of Thanks in the Upper House of Parliament-    
1. Congress did nothing to eradicate black money from India.
2. Chairman Sir, please do not stop Renuka Ji from laughing. It is after the Ramayana serial that the nation heard such kind of laughter.
3. Congress keeps saying we brought Aadhaar. Let me remind them about a debate in the Rajya Sabha in 1998 and what LK Advani Ji said. It is in his speech that you will find the genesis of Aadhaar.
4. I have always said that for the nation's development so far, all the previous govts have made a contribution.
5. I also went to Davos, you also went to Davos. But the difference is - you went with a letter to save someone.
6. We plan our action, set the road map so that we take the nation on the path to development.
7. You call us name changers. We are aim changers  - we work hard and have ushered in a paradigm shift in the working of the Government. Innovative projects are being thought about and completed in a time bound manner.
8. Congress Mukt Bharat is not my call, it was invoked by Mahatma Gandhi.
9. We want Mahatma Gandhi's India. Even the Congress wants 'Gandhi's India.' - the India of the Emergency, Bofors, Chopper scams.
10. Congress wants the India of the Tandoor Case.
11. While insulting 'Bhajapa' (BJP), you also start insulting 'Bharat' (India).
12. You have a right to criticise Modi & Modi govt. But while doing this, you start criticising the country. This is not right.
13. We need to sit together and build a 'Bharat Yojana' so that people can trust us with providing better health facilities. There is no politics when it comes to fighting diseases.
14. Why some people feel bad when India improves its ease of business rankings. Ease of doing business is something to be proud of.
15. Why should anyone feel bad if the country improves 'ease of doing business' rating? It is beyond comprehension. If nothing, some start questioning the credibility of the rating agency just because it has did not happen under their rule!.
16. We are always looking for suggestions, feedback and input on our schemes. After all, we are working for the nation and the poor.
17. Insurance scheme is for the poor and I believe we can take this forward, says prime minister during motion of thanks to president's address.
18. You were speaking about Ayushman Bharat and gave the example of US and Britain, there is a vast difference between them and our society but of course being in power for more than 50 years you get cut off from the ground.
19. Congress says it had brought Aadhaar. But, I want to remind everyone that in the Rajya Sabha in 1998, LK Advani Ji spoke about it
20. When a big tree falls, remember these lines, is this the India Congress wants.
21. Sultanate is gone but we still behave like Sultans and I congratulate Jairam Ramesh ji for openly saying this.
22. We are working to ensure that every Indian has his or her own home.
23. You are free to mock as you please but why are you blocking the bill for OBC Commission? Why are you blocking Triple Talaq Bill. Are you not sensitive to the aspirations of OBCs'.
24. One can debate whether Rajiv Gandhi or his family received kickbacks in Bofors scam but it's undeniable that Congress got the commission from the deal.
25. Middle class bears the brunt of inflation. We have contained the inflation, keeping it at around 2-3% only.
26. Swachh Bharat, Make in India, Jan Dhan, Black money crackdown, surgical strikes, International Yoga Day have been mocked at. Why are you blocking OBC Commission bill? Why are you blocking Triple Talaq Bill?
27. If you feel so strongly about bringing changes to Triple Talaq Bill, you should have brought the law yourself, when you were in power for so. 
28. The benefit of Ayushman Bharat will go to the poor, Congress should form task force  and find out shortcomings of the scheme.
29. Congress boycotted the GST. This negativity will go back to them. We were facing the black marketing of Urea but our govt stopped its black marketing.
30. Let us have a constructive discussion on holding simultaneous Lok Sabha and Vidhan Sabha elections in the various states.