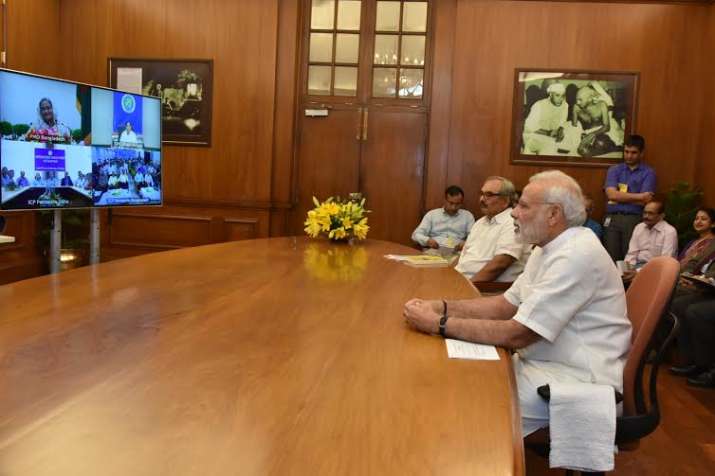 New Delhi: Prime Minister Narendra Modi today reiterated India's support to Bangladesh to fight terrorism and promised all possible help in this regard.
In a statement while inaugurating Petrapole Integrated checkpost, along with his Bangladesh counterpart Sheikh Hasina, Modi condemned the recent attacks in Dhaka and said, "You should not consider yourself alone in the fight against terrorism, you have complete support of India."
The Prime Minister began his speech by wishing Eid to people of Bangladesh and then offered condolences on the ghastly attack that claimed 29 lives including five attackers and two policemen.  
"India stands with Bangladesh in these testing times. I want to acclaim the strong leadership of Prime Minister Sheikh Hasina, your leadership is an example for the region," Modi said in his speech. 
Earlier, PM Modi and Sheikh Hasina jointly dedicated the Petrapole Integrated checkpost, the biggest land port in South Asia, to the people through video conferencing.
Chief Minister of West Bengal, Mamata Banerjee also joined the video-conference from Kolkata.
Modi said the inauguration of Petrapole checkpost will not only promote bilateral trade but also help in economic growth of both countries. 
"Eight such integrated check posts along Indo-Bangladesh border to be set up in times to come," added Modi.
Speaking on the importance of Petrapole, Modi said, "India and Bangladesh are not only making progress, they are together on the road to progress. That is why Petrapole-Benapole is a very important milestone in this direction." 
Petrapole-Benapole is an important land border crossing for India-Bangladesh trade. More than 50% of the India-Bangladesh trade passes through Petrapole.  
Trade worth more than Rs 15000 Crore takes place through the Petrapole ICP, which is more than all the other Indian Land Ports and Land Customs Stations put together. Approximately 15 lakh people and 150,000 trucks cross Petrapole-Benapole every year.
The Petrapole ICP will provide better facilities for effective and efficient discharge of functions such as security, immigration, customs, quarantine, etc. while also providing support facilities for smooth cross-border movement of persons, goods and transport.
Petrapole ICP will be the second ICP on the India-Bangladesh border after the Agartala ICP at the Agartala (India)-Akhaura (Bangladesh) land border. It will also be the biggest land port in South Asia.
The commissioning of the Petrapole ICP will also serve to foster greater economic integration and connectivity between India and Bangladesh.