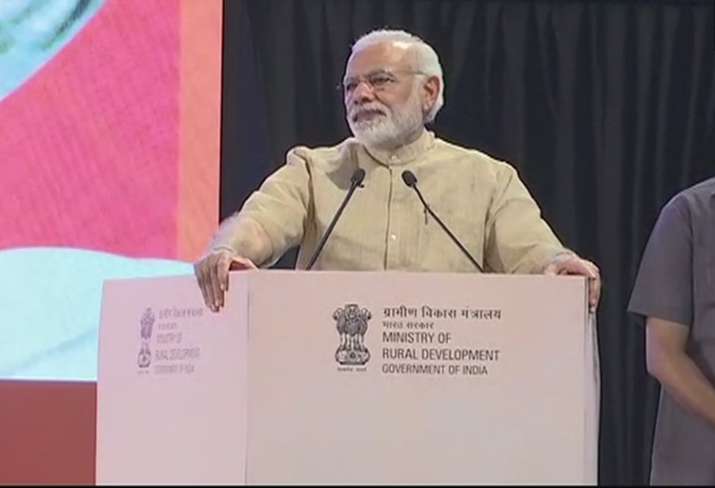 The real essence of a democracy is 'Jan Bhagidari' and communication between people and the governments is required for development of the country, Prime Minister Narendra Modi said on Wednesday.
"Strength of a democracy cannot be restricted to how many people vote. Yes, that is important but the real essence of a democracy is Jan Bhagidari and integrating people in the development journey of cities, villages. Regular Samvad with governments is required," Modi said while speaking at birth centenary celebrations of Sangh Parivar veteran Nanaji Deshmukh in Delhi. 
The event also marks the 115th birth anniversary of socialist leader Loknayak Jayaprakash Narayan.
The Prime Minister said that just having the best ideas for development is not enough and initiatives have to be completed on time and the fruits of development must reach the intended beneficiaries.
Efforts have to be comprehensive and 'outcome driven' not 'output driven', he said. 
The Prime Minister pitched for providing villages with the same facilities as the cities. 
Advocating sanitation in rural areas, he said, "Lack of sanitation facilities is adversely impacting the development journey of villages. That is why we have been working to overcome this and build toilets in rural areas."
Paying tributes to socialist icon Loknayak Jayaprakash Narayan and Nanaji Deshmukh, Modi said both leaders distinguished themselves and devoted their lives towards the betterment of the nation.
"Loknayak Jayaprakash Narayan was deeply popular among youngsters. The likes of Loknayak JP and Dr. Ram Manohar Lohia were active during the 'Quit India' movement, inspired by the clarion call of Mahatma Gandhi. JP was never interested in power politics," he said. 
Loknayak JP fought corruption in the nation and his leadership rattled those in power that time and he was even attacked during a march, Modi said adding that Nanaji Deshmukh was shoulder to shoulder with him at that time. 
Recalling the sacrifice of Nanaji, Modi said, "When Janata Government was formed in 1977, Nanaji Deshmukh was requested to join the Government as a Minister but he did not do so. He followed JP and preferred to devote himself towards rural development and making our villages self-reliant, free from poverty."