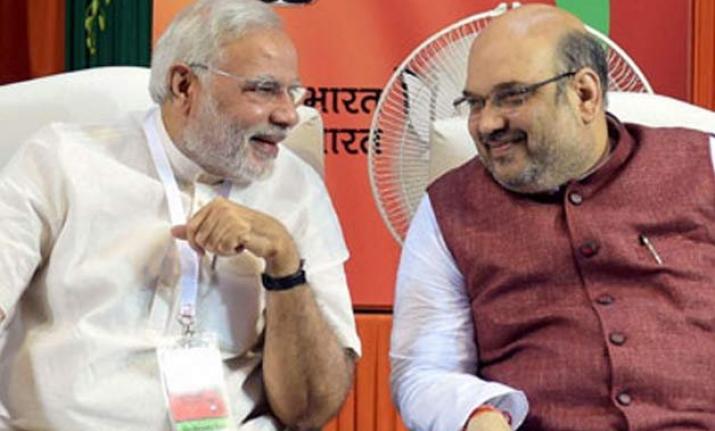 PM Narendra Modi along with all his party MPs is observing a day-long fast to protest the "undemocratic" actions of the Congress which led to the washout of the Budget session of Parliament. While observing fast, the prime minister continued with his official routine of meeting people and clearing files.
The opposition, on the other hand, has termed this as nothing but a "photo-opportunity" and "drama". The Congress said that the saffron party and its allies were responsible for the disruption of Parliament during the second half of the Budget session. Hitting out at the Modi-led Bharatiya Janata Party (BJP), Congress spokesperson Randeep Singh Surjewala said the government itself wasted 250 hours of Parliament and later sits on fast.
"If they are so helpless and weak then they should give up their posts and take retirement," he said, adding: "This is not time for the PM to sit on fast, this is time for his retirement. If not now, then after 2019 they will have to retire." 
HERE ARE THE LATEST UPDATES:
# In a statement, the BJP said that PM Modi along with all the party MPs will observe fast on April 12, to reveal the "undemocratic and anti-development face of the Congress party, which stalled the proceedings of Parliament during budget session". 
#All BJP MPs will observe fast on April 12 in their respective constituencies.
# BJP president Amit Shah will today hold a 'dharna' (sit-in) at Hubli in poll-bound Karnataka.
# The BJP MPs will make people aware about the opposition parties' conspiracies to stall development in the country by obstructing Parliament proceedings, the party said. 
#On Friday, addressing BJP MPs, the prime minister had accused the Opposition, particularly the Congress, of practising divisive politics and said that BJP MPs will observe a fast on April 12 to protest the impasse in Parliament. 
#The Congress had tried to preempt the BJP event by announcing that its members would observe a fast on April 9 to promote communal harmony in the country.