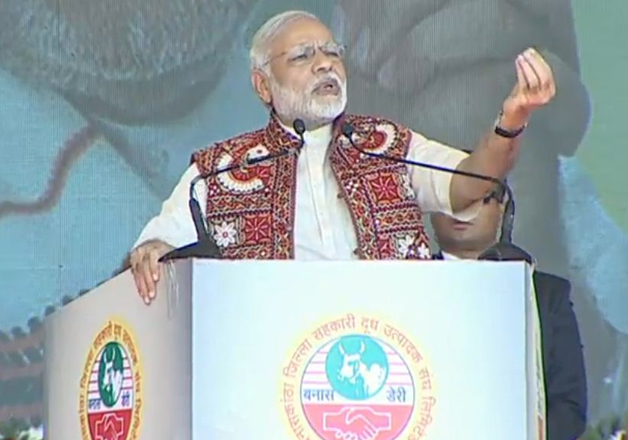 Prime Minister Narendra Modi today criticized opposition parties for disrupting the Parliament over demonetisation issue. 
Addressing a farmers' rally in Banaskantha district of Gujarat, the Prime Minister said that he is not allowed to speak and express his views on the issue in the Parliament. 
"Government has always said we are ready to debate. I am not being allowed to speak in Lok Sabha so I am speaking in the Jan Sabha," he said.
"Merely talking about the poor is different from working for the poor, something that the NDA government is always doing," he added.
Referring to President Pranab Mukherjee's remarks on continuous disruptions, he said, "Parliament is not being allowed to function. Happenings in Parliament anguished our President, who has tremendous political experience. We belong to a nation where we do not think- what my interest. We are not a selfish nation. We think about future generations."
The Prime Minister also took the opportunity to urge the opposition parties to make all kinds of efforts in spreading the awareness about digital banking among the people stepping aside the political differences. 
He further said that the decision to ban old Rs 500 and 1,000 notes was taken to strengthen the hands of the nation's poor.
"Honest have been looted for 70 years and that he stood with the poor of the country. We took the decision on currency notes to strengthen the hands of the poor of the nation," he said, adding that 'his fight was against terrorism and the menace gets power from fake currencies'.
"With our step on currency notes we have been successful in weakening the hands of terrorists and those in fake currency rackets," he added.
Defending his decision, Modi further said: "Who is unhappy with corruption? Not those perpetrating corruption... it is the poor, the common citizens who are unhappy."
Modi said that the 'honest citizens of this country have supported his move'.
Assuring people that the inconvenience because of demonetisation will soon be reduced, he said. "It is as an essential step to make India corruption-free. After 50 days, you'll definitely see things will change."
"You must have seen how bank officials and others who have stashed huge amount of black money are being caught. They thought they can escape through back channels but they didn't know that Modi has installed cameras in the back channels as well," he said.
Highlights 
* There is no need to waste your time standing outside banks or ATMs, e-wallets have brought banks to your mobiles: PM Modi
​* After 50 days, you'll definitely see things will change: PM Narendra Modi
* Want to assure the people of the country that no one will be spared: PM Narendra Modi 
* You must have seen how bank officials and others who have stashed huge amount of black money are being caught. They thought they can escape through back channels but they didn't know that Modi has installed cameras in the back channels as well: PM Modi
​
Merely talking about the poor is different from working for the poor, something that the NDA government is always doing: PM Modi pic.twitter.com/d3wgcxt6S3

— ANI (@ANI) December 10, 2016
* Government has always said we are ready to debate. I am not being allowed to speak in Lok Sabha so I am speaking in the Jan Sabha: PM Modi
​
आप देख रहे संसद नहीं चलने दी जा रही। मुझे लोकसभा में बोलने नहीं दिया जाता, मैंने जनसभा में बोलना का फैसला किया है: पीएम #PMInDeesa pic.twitter.com/5bMbNq6yZ7

— BJP (@BJP4India) December 10, 2016
Parliament is not being allowed to function. Happenings in Parliament anguished our President, who has tremendous political experience: PM Narendra Modi
* We belong to a nation where we do not think- what my interest. We are not a selfish nation. We think about future generations: PM Modi
We are standing with the poor of the nation: PM @narendramodi in Deesa, Banaskantha pic.twitter.com/XKQ3pPZp4C

— PMO India (@PMOIndia) December 10, 2016
* Who is unhappy with corruption? Not those perpetrating corruption...it is the poor, the common citizens who are unhappy: PM Modi
* With our step on currency notes, we have been successful in weakening the hands of terrorists, those in fake currency rackets: PM Modi
* For how long can poor of India be told to pay for houses in cash. For how long will poor be asked- you want Pucca bill or Kuccha bill: PM Modi
* We took the decision on currency notes to strengthen the hands of the poor of the nation: PM
नोटबंदी से रुपये की कीमत बढ़ी है, गरीब की ताकत बढ़ी है- पीएम श्री @narendramodi https://t.co/jtwD1yPhm4 #PMInDeesa pic.twitter.com/EAlIEUGwEs

— BJP (@BJP4India) December 10, 2016
Was there any value of Rs 100, 50, 20 notes before Nov 8?Only 1,000, 500 notes were valued.After 8 Nov.Chhoti note,chhote log strenthend:PM
Along with 'Shwet Kranti', here there is also a 'Sweet Kranti.' People are being trained in honey products: PM @narendramodi #PMInDeesa

— BJP (@BJP4India) December 10, 2016
* We sell our farmers' produce at very low prices. Value addition needs to be done to castor as it is demanded worldwide: PM Modi
* The farmers here turned to dairy and animal husbandry. This was beneficial for the farmers: PM Modi 
* I am told it is after a very long time that a Prime Minister is visiting Banaskantha. But, I am here not as PM but as a son of this soil: PM Modi
The farmer of North Gujarat has shown to the world what he or she is capable of: PM @narendramodi pic.twitter.com/SQqi2BVuOp

— PMO India (@PMOIndia) December 10, 2016
LIVE: PM Shri @narendramodi addressing the huge gathering in Deesa, Gujarat - https://t.co/6mpV6jHcJt #PMInDeesa pic.twitter.com/nAtyzseFrC

— BJP (@BJP4India) December 10, 2016