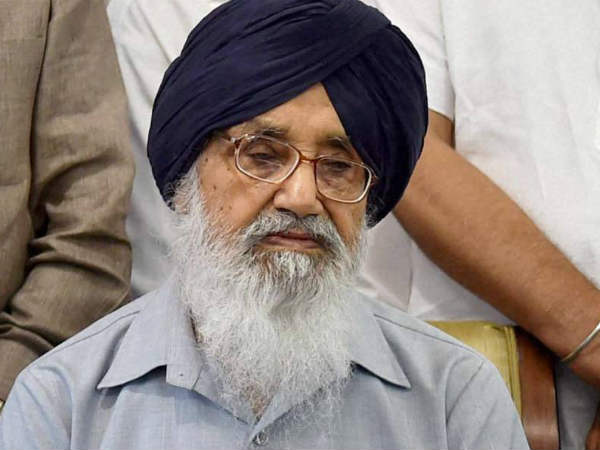 Punjab Chief Minister today launched a scathing attack on former Rajya Sabha member Navjot Singh Sidhu and said that the people of the state will teach him a lesson at the appropriate time.
 
Terming Sidhu an 'opportunist' and a 'fugitive', Badal said that there was no place in Punjab for leaders like him.
He said though Sidhu, with whom SAD has had a running feud, had deceived his party in the hope of a "bright future", people of the state would not forgive him and teach him a lesson for "treachery" because they have a strong dislike for people who deceive their parties.
"Opportunists and fugitive political leaders like Sidhu have no place in Punjab politics and people will teach him a befitting lesson," Badal told a gathering during Sangat Darshan in Bhadaur assembly segment here.
The Chief Minister said, bereft of any ideologies both these leaders (Barnala and Manpreet), had back stabbed their mother's parties and Sidhu was not an exception.
He said, Arvind Kejriwal-led AAP was proving to be a haven for all the "fugitives" and "unprincipled" politicians, who hardly have any base among people.
He said, in fact, AAP was a band of opportunists and fugitives who have joined hands for looting the people of state.
"These people don't have any ideological bonding but have joined hands in the false hope of assuming power in the state," Badal added.
Making a scathing attack on state Congress Chief Amarinder Singh, he said the Lok Sabha MP from Amritsar has a proven anti-farmer track record.
Citing an example, he said SAD-BJP alliance had been providing free power to farmers but during Amarinder's tenure as CM it was discontinued, putting enormous burden on them.
Badal alleged that the state Congress Chief was "part and parcel" of the conspiracy to rob state's water by constructing Sutlej-Yamuna Link canal.
"It is on record that Amarinder had welcomed the then Prime Minister Indira Gandhi to lay foundation stone of this canal," he added.
Lauding the Centre's announcement to set up an All India Institute of Medical Sciences (AIIMS) in Bathinda, he said it would prove to be a boon for the residents of Malwa region.