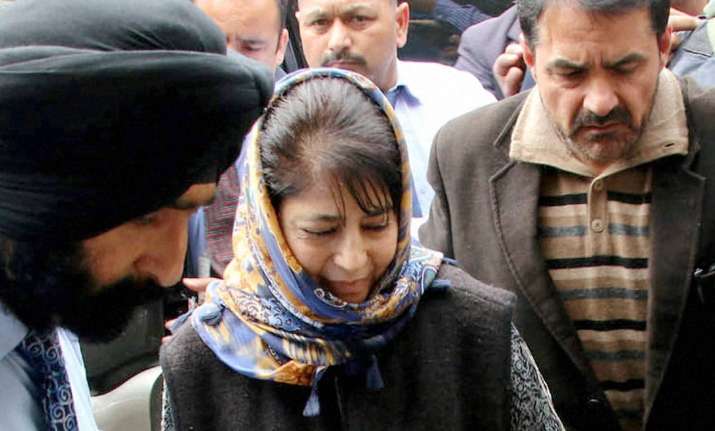 Jammu: The Peoples Democratic Party and the BJP will on Saturday call on Jammu and Kashmir Governor N.N.Vohra to stake claim to form the new government to be headed by Mehbooba Mufti.
Mehbooba will also be the country's first Muslim woman chief minister. BJP leader Nirmal Singh will be the deputy CM in the new government. Singh, a BJP MLA from Billawar, was the deputy CM in the Mufti Mohammad Sayeed government as well. They will meet the governor here at 3.30 p.m.
"Mehbooba Mufti will hand over a letter claiming to form an elected government as the chief ministerial candidate, while Nirmal Singh will submit support to the PDP claim", sources said.
Following an invitation from the Governor, both PDP and BJP leaders were scheduled to meet him separately on Friday. But after discussions, both sides agreed to call on him jointly.
"Both party leaders will now meet him together, probably on Saturday," BJP national general secretary Ram Madhav said.
However, there is lack of consensus on distribution of portfolios among two parties.
PDP Leaders Muzaffar Hussain Baig,  former finance minister Haseeb Drabu. and MLA Abdul Rehman Veeri met with  BJP president Sat Sharma, MP Jugal Kishore Sharma and Bali Bhagat in Jammu on Friday.
BJP reportedly has asked for more ministries this time along with some key portfolios, an issue which has not been resolved yet.
After a late Friday night meeting between BJP national general secretary, Ram Madhav and Mehbooba Mufti here, it was decided that the chief ministerial candidate and deputy chief ministerial candidate would meet Vohra on Saturday, the sources added.
The PDP has 27 MLAs (It had 28 before death of Chief Minister Mufti Mohammad Sayeed) in the 87-member legislative assembly. An independent MLA from the Ladakh region also supports the PDP.
BJP has 25 MLAs and is supported by two MLAs of Peoples Conference headed by Sajad Lone and one independent candidate.
The state was placed under governor's rule on January 8, a day after the then chief minister, Mufti Muhammad Sayeed passed away in New Delhi.
(IANS)