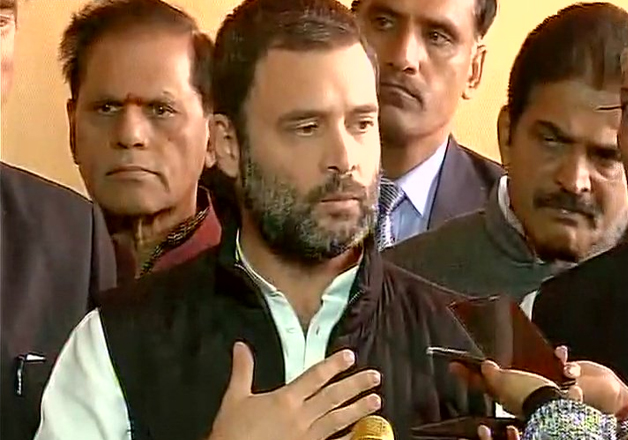 The Congress-led opposition parties today staged a 'Black Day' protest near Gandhi statue in the Parliament against the government's demonetisation policy.
Speaking to reporters here, Congress vice-president Rahul Gandhi made yet another stringent attack on Prime Minister Narendra Modi, terming the note ban decision as a 'foolish' one.
"PM's so-called bold demonetisation move is a foolish decision which has devastated the country," he said.
On PM Modi's promotion of cashless transaction through digital payment platforms, he said, "If I am allowed to speak in Lok Sabha, I will show to all how Paytm means 'Pay to Modi'."
Claiming that the Prime Minister had 'changed his narrative' on demonetisation, Rahul said, "Narendra Modi Modi started by saying the move was aimed against black money, then he shifted to terrorism, then to counterfeit currency and finally began to talk of a cashless economy."
Rahul also charged PM Modi of taking this decision without any due consideration.
Delhi: Opposition leaders observing black day to mark one month of #demonetisation at Gandhi statue inside Parliament premises. pic.twitter.com/PQI20r1r5G

— ANI (@ANI) December 8, 2016
 
He said that the Prime Minister was 'laughing' and 'having a nice time' while the people of the country are suffering.
"Demonetisation has devastated the poor, farmers and daily wage workers. We want to have a discussion. We want a vote, but the government doesn't," he said.
The Congress leader also made it clear that the opposition parties will allow the Parliament to debate only if Prime Minister is present on the floor of the House. 
"PM Modi is running away. If he comes to the House for debate, we won't let him run," Rahul said.
Sharad Yadav of Janata Dal (United), Ram Gopal Yadav of Samajwadi Party and Communist Party of India leader D Raja were among others who joined the Congress' 'black day' protest.
The Winter Session of the Parliament is heading towards a complete washout over the demonetisation move. The Parliament has failed to transact any business due to continuous uproar by the opposition parties over government's November 8 decision.
The opposition parties in the Lok Sabha have been demanding a debate under a rule that entails voting whereas the government has said that it wanted to discuss it under Rule 193, which does not entail voting. 
In the Rajya Sabha, opposition parties have said that the debate will take place only if the Prime Minister is present in the House.