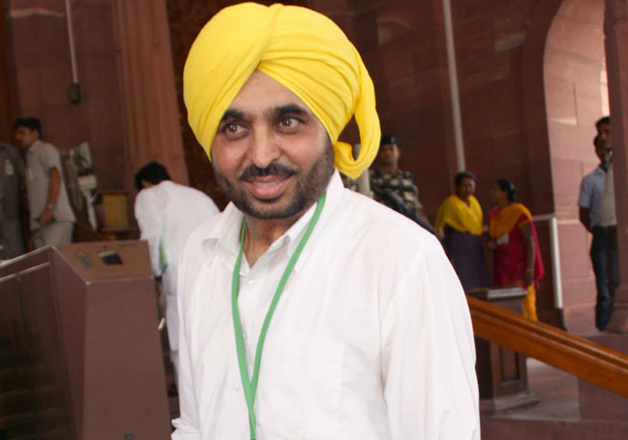 Member of Parliament from the Aam Aadmi Party (AAP) Bhagwant Mann has been found guilty by a Lok Sabha panel which was probing his Parliament House videography issue.
The nine-member committee, headed by BJP MP Kirti Somaiya, will submit its report to Lok Sabha Speaker Sumitra Mahajan tomorrow.
Mann has tendered an unconditional apology and has also submitted an affidavit in this regard. He has also vowed to never repeat the act which could have compromised the security of the Parliament. 
Mann apologised and withdrew his remarks that Prime Minister Narendra Modi be also summoned for inviting ISI officials to Pathankot airbase after a terror attack there.
The Speaker or the House will take a call on quantum of punishment to be awarded to the Sangrur MP.
Mann had triggered a controversy in July by live-streaming the security arrangements at the Parliament House complex on social media. 
After facing flak for his act, the AAP MP had defended his move saying he was only showing people how Parliament functioned. 
Following this, the Speaker had formed a nine-member panel to probe the incident, which was termed by many as 'serious breach' of security of the Parliament who was attacked by militants in 2001.
He had later appeared before the committee and demanded Prime Minister Modi's suspension from the Lok Sabha for "compromising national security" by allowing Pakistan's spy agency ISI inside the Pathankot airbase after the terror attack. He had also sought that Modi too be summoned by the committee.
The committee had on November 28 summoned the MP and questioned him about the 12-minute long video.
Mann, who was barred from attending the proceedings of the Parliament pending inquiry, had claimed innocence in the matter saying 'he was only showing people how Parliament functions'.
He had even sat on dharna outside Parliament on Day 1 of the Winter Session with a placard that read this, "Modi is afraid of me, so he keeps me out of the Parliament." 
Members of the Parliamentary panel failed to adopt a draft report following differences over quantum of punishment, with some opposing any punitive action as he had not been attending the House on the orders of the Speaker. 
The committee met today to finalise a draft report after Mann tendered an unconditional apology.
While there was unanimity on security aspects recommended by the panel, there were differences on the punishment to be handed down to him. Though he has been found guilty, some suggested that he be suspended for a day, a few others said the suspension should be be for a day. Others said since he has not been attending the House on the directions of the Speaker for a long time, he should not be punished. 
The nine-member panel will meet again tomorrow. "The report will be submitted tomorrow," Somaiya told PTI, refusing to elaborate.