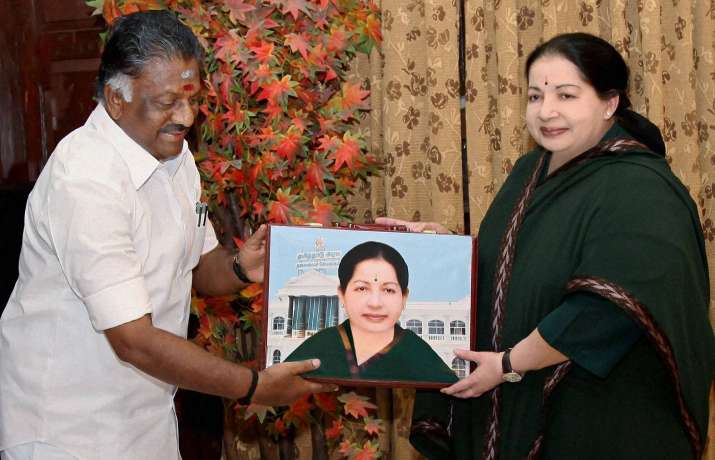 O Panneerselvam, a staunch loyalist of Jayalalithaa, was sworn in as the Chief Minister of Tamil Nadu for the third time after the AIADMK leader passed away late on Monday. 
A tea vendor-turned-politician, 65-year-old Panneerselvam, popularly known as OPS, was late Jayalalithaa's Man Friday and twice helmed the state after she was convicted in graft cases. 
A grim-faced Panneerselvam, who was also seen sporting a beard, was sworn in around 1.15 AM early today by Governor Ch Vidyasagar Rao at the Raj Bhavan here amidst a pall of gloom, shortly after Jayalalithaa's death. Panneerselvam took oath as CM with a photo of Jayalalithaa in his pocket. 
The politician has challenging tasks ahead. He faces the challenge of keeping the AIADMK together and carry forward the legacy left behind by his leader as he tries to build a name for himself.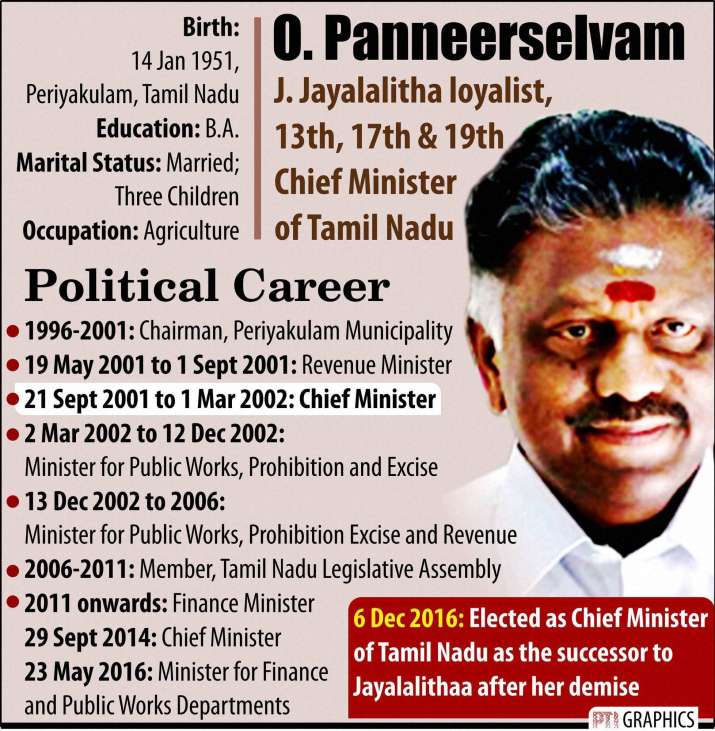 Panneerselvam political journey
Here are major challenges faced by Panneerselvam in near future. 
Uniting AIADMK: 
Party sources tell that while Panneerselvam has been chosen as the Chief Minister after the demise of Jayalalithaa, the AIADMK will be led by her trusted aide Sasikala Natarajan.
There could be a clear distribution of power with no interference in each other's affairs but as AIADMK's General Secretary, Sasikala will have a say in government too. 
Both the leaders will face the challenge of keeping the AIADMK together as it tries to reinvent itself without the charismatic party supremo.
To establish himself as a political force: 
If both Sasikala and Panneerselvam wield equal power, there will be two power centres and chances of clashes will arise. Either OPS accepts the authority of his party supremo and surrenders, or try to establish himself as the heir of Jayalalithaa's legacy. 
However, in the last two months, since Jaya was admitted in Apollo Hospital and today during her last journey, only face that was continuously visible beside her body was of Sasikala. She accompanied Amma's mortal remains and performed her last rights, clearly showing the party that she was the Jayalalithaa's heir. 
It is yet to see if Sasikala will be the de-facto ruler of Tamil Nadu and Panneerselvam will remain just a rubber stamp or he will establish himself as a different force. 
Administration:  
As the Chief Minister of one of the largest state of the country, the task ahead for Panneerselvam is not an easy one. With four and half years to go until the next election, he will have enough time to establish himself as an able administrator and ruler. 
Although, he has served twice as Chief Minister in the past, it was not without the guidance of his leader. 
He has had experience as minister and has held key portfolios of Finance and Revenue in the past. When Jayalalithaa was admitted in hospital, he was handed over the portfolios held by the Chief Minister. 
GST and Cauvery dispute: 
In near future, he will have to deal with two major challenges as the CM. While the contentious Cauvery dispute with Karnataka is yet to reach an amicable solution, he will also have to deal with the GST as Tamil Nadu has staunchly oppose the new tax regime. 
Welfare schemes: 
As Chief Minister, Panneerselvam will have to deal with these two biggest issues besides carrying forward Jayalalithaa's plans for the state. Jayalalithaa established herself as a CM of people who launched several welfare schemes for the people which contributed to her being nicknamed as 'Amma'.
Along with Jayalalithaa's old welfare schemes he will also have to bring something new and keep up the people's expectations from the AIADMK government: 
To fill out the large vacuum left by Jayalalithaa in the state is not an easy job and only time will tell if he is up to the task.