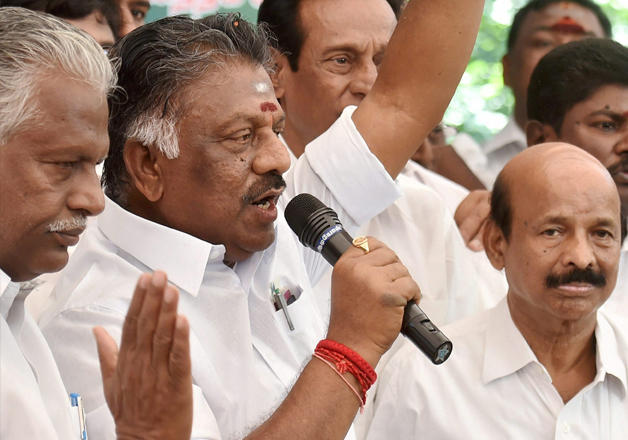 Former Tamil Nadu CM and expelled AIADMK leader O Panneerselvam has vowed to dislodge the new government under the leadership of jailed leader VK Sasikala loyalist Edappadi K Palaniswami 'at any cost'.
Hours after the swearing-in ceremony of the Palaniswami government, Panneerselvam led the MLAs and MPs supporting him to Jayalalithaa memorial on the Marina Beach and said that the 'new government will be thrown out soon'.
"A government that is not liked by the people has come to power. This government will be thrown out soon," he told reporters after paying homage to Jayalalithaa.
Slamming Sasikala and her family members for forming a 'fake government', he said, "The new government is loyal to Sasikala and her family members. We have taken a vow to dislodge this government at any cost."
He also urged party legislators to take a decision as per their conscience during the confidence vote on Saturday.
Panneerselvam said that his supporters will carry out rallies and meetings in all 234 constituencies of the state to garner people's support for his movement to remove Sasikala and her family members from Veda Nilayam, the residence of Jayalalithaa.
"Not even 1 per cent of the people are with the new government and this will be highlighted in all the constituencies. We will somehow remove this government and establish a government as strived by Jayalalithaa," he said.
After a prolonged political crisis due to internal power war in the ruling AIADMK, Governor Vidyasagar Rao yesterday invited Palaniswamy to form government and administered oath of office and secrecy. Palaniswamy, known to be a VK Sasikala loyalist, has been given 15 days by the Governor to prove his majority. However, the vote of confidence on the floor of the state Assembly will take place on Saturday.
The DMK with 89 MLAs in the House of 234 members has clarified that it would not support any of the AIADMK factions. The Congress having 8 members has not disclosed it decision so far. The ruling AIADMK has 135 MLAs in 234-member House. 
Meanwhile, 11 MPs owing allegiance to Panneerselvam went to the Election Commission in Delhi yesterday and lodged complaint against the election of Sasikala as the party general secretary. They sought to nullify all her actions in that capacity including fresh appointments and removals in the party.