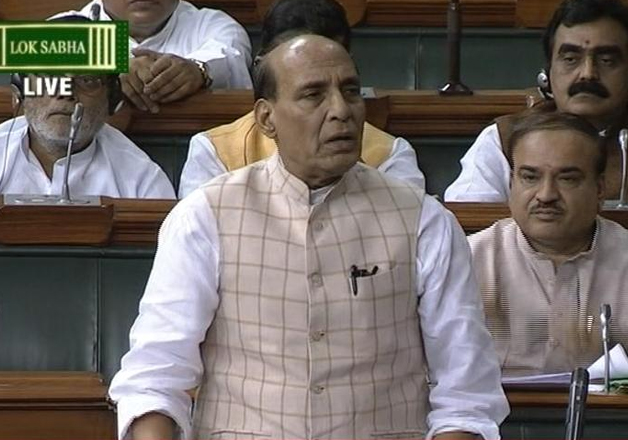 New Delhi: Union Home Minister Rajnath Singh today thanked all political parties for being united on the issue of Kashmir. Speaking on the Kashmir unrest in Lok Sabha, Singh once again slammed Pakistan for trying to destabilise the situation in India.
"Pakistan instead of fixing its internal matters is trying to destabilize India. If there are any terrorists in India, they are Pakistan sponsored," Singh said, while quoting former Prime Minister Atal Bihari Vajpayee's famous poem "ise mitane ki sajish karnewalo se keh do, chingari ka khel bura hota hai, auro ke ghar aag lagane ka jo sapna apne hi ghar main khada hota hai".
"People following Islam in India are not something Pakistan needs to worry about," Singh added.
Singh also informed that the Centre will form an expert committee to look into the use of these pump-action guns.
"The government has directed security forces to exercise maximum restrain while dealing with protesters in Kashmir. The government will set up a committee to find alternative to pellet guns. The panel will submit its report in two months," he said.
The use of pellet guns has drawn criticism from several quarters. Last week, Centre had sent a team of three eye specialists from AIIMS to help treat pellet injuries among those injured in the protests against the killing of Hizbul Mujahideen militant Burhan Wani.
The pellets are option that is used by security personnel to control rebelling mobs. It can cause permanent damage to those hit, including loss of eyesight. As many as 92 eye surgeries were performed at a Srinagar hospital till July 11, since the violence in the state began.
Singh further said that the Kashmir issue needs to be dealt with collectively and "everyone needs to take the responsibility of making the situation better."
"We all need to work together to improve the situation in Kashmir," Singh said.
Rejecting allegations by opposition that Prime Minister Narendra Modi was not worried about the situation in Kashmir, he said, "I understand that everyone in the House is concerned about the situation in Kashmir. Our PM was on a foreign trip during the recent unrest. Despite him being abroad, I apprised him of the situation. The first thing he did on his return was chair a high-level meeting on the issue."
Singh also informed that he will soon visit the state to take first hand stock of the situation.
He said that local authorities have decided to relax curfew across Kashmir Valley in night to allow people buy essentials of life.
"Curfew will be relaxed in the night to provide relief to the people," he said, adding that the "relaxation period will be reviewed as it depends upon how the law and order situation behaves."
The Valley has been reeling under curfew restrictions announced by the authorities, and a total protest shutdown called by the separatists for the last 13 days.
The present cycle of violence started on July 9, a day after Hizbul militant  Burhan Wani was killed in a gunfight with the security forces in Kokernag area of Anantnag district.