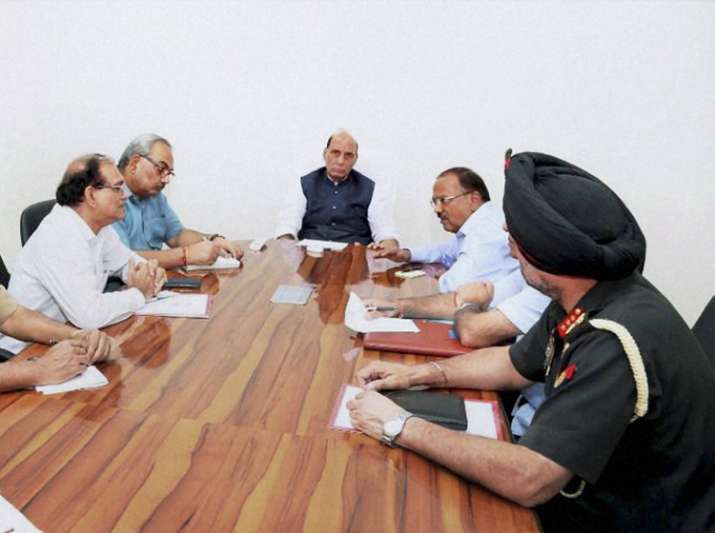 Holding Islamabad responsible for the attack at Army base camp in Jammu and Kashmir's Uri that cost India lives of 17 soldiers, Home Minister Rajnath Singh on Sunday said "Pakistan is a terrorist state" and it should be identified and isolated as such.
"There are definite and conclusive indications that the perpetrators of Uri attack were highly trained, heavily armed and specially equipped," Rajnath said after a high level meeting chaired by him at his residence in New Delhi. 
"Pakistan is a terrorist state and it should be identified and isolated as such. I am deeply disappointed with Pakistan's continued and direct support to terrorism and terrorist groups," the Home Minister said in a series of tweets. 
Rajnath said that those behind the terror attack would be brought to justice.
"Deeply distressed at the terror incident in Uri and the loss of 17 brave soldiers martyred. I pray for the speedy recovery of the injured. My heartfelt condolences to the families of the martyred soldiers," the HM said in a condolence message on Twitter. 
Rajnath said he has apprised the Prime Minister Narendra Modi regarding the deliberations of the security review meeting. 
The PM also promised strong action against those behind the "despicable attack". 
"We strongly condemn the cowardly terror attack in Uri. I assure the nation that those behind this despicable attack will not go unpunished," the Prime Minister tweeted on the incident in which 17 soldiers were killed and 19 injured. 
Rajnath Singh, who was to travel to leave for Russia today, postponed his visit and called for an emergency meeting. 
National Security Advisor Ajit Doval, Union Home Secretary Rajiv Mehrishi, Defence Secretary G Mohan Kumar and other senior officials of Army and paramilitary forces briefed Rajnath on the prevailing situation in the state following the terror strike. 
The Home Minister directed that security forces should mount an all out offensive against terrorists operating in the Valley, sources said. 
Those who attended the meeting include chiefs of Intelligence Bureau, RA&W, Directors General of Military Operations and Military Intelligence. 
The Home Minister has already postponed his visit to Russia and the US in the wake of the deadly terror attack in Uri and the continuing unrest in the Kashmir Valley for more than two months after the killing of Hizbul Mujahideen militant Burhan Wani on July 8. 
In one of the deadliest attacks on the Army in recent years, 17 jawans were killed and 19 others injured as heavily armed militants stormed a battalion headquarters of the force in the wee hours today. 
Four militants involved in the terror strike were killed by the Army.