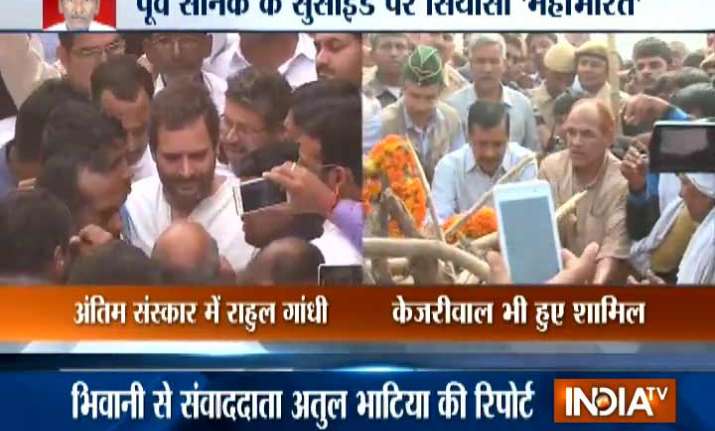 Scores of politicians including Congress Vice president Rahul Gandhi, Delhi Chief Minister Arvind Kejriwal and TMC leader Derek O'Brien have queued up to attend the last rites of retired armyman Ram Kishan Grewal, who committed suicide over an insufficient pension, at his village in Bhiwani in Haryana.
Arvind Kejriwal used the occasion to target the Modi government and questioned Centre's move to take his family in custody.
"I don't mind being in police custody, but why did police take his family in custody" the Delhi CM said.
"The arrogance that resulted in Congress's downfall , will also take down the BJP," he added.
Meanwhile, the Delhi government has announced Rs 1 crore as compensation for the family of the deceased.
Randeep Singh Surjewala of the Congress helped serve as a pall-beater at today's cremation. 
"Modi govt should apologise to the Indian Armed Forces and RamkishanGrewal's family for questioning his mental state," Surjewala said.
When asked whether Congress is trying to make political fodder of the issue, he said, "Yes we are ready to do politics to protect Ramkishan Grewal's family and for the respect of our armed forces."
"If OROP has been granted why are soldiers protesting? This shows Modi Ji is lying," he added.
In a phone conversation with his son, Subedar Grewal on Tuesday said he had consumed poison at a government building in the heart of Delhi. Describing himself as "a man of principles," he said he was killing himself for "my jawans and my country".  He died in hospital a few hours later.
Earlier, the former soldier's relatives were taken from the hospital where his body lay to a police station because they were allegedly creating a ruckus by protesting against the government.
Yesterday, Rahul Gandhi, Kejriwal and Manish Sisodia were detained by the police to prevent them from meeting Subedar Grewal's son, Jaswant Grewal, who alleged he had been beaten up by the police.
Kejriwal accused Prime Minister Narendra Modi of "lying" about delivering OROP and said his detention, as well as that of his deputy, Manish Sisodia, proves "we are living in an undeclared Emergency".