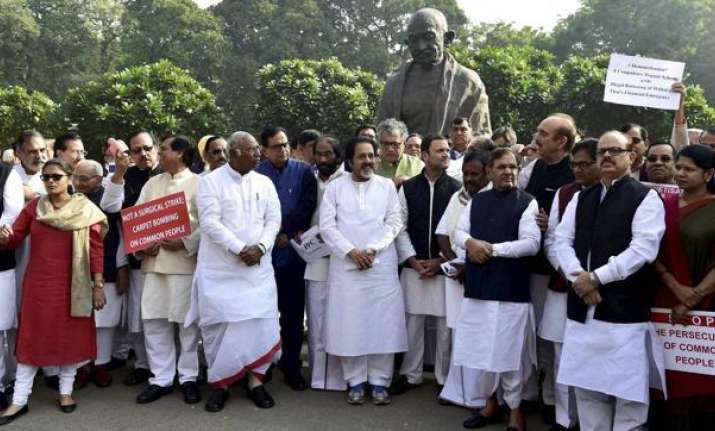 The ban on old currency notes of Rs 500 and Rs 1000 by Narendra Modi government has brought most of the opposition together as they plan to launch country wide protest on Monday. 
However, they appear to be divided over the way of protest with the left parties asking for a bandh to scrap demonetisation while the Congress, Trinamool Congress and the Aam Aadmi Party going for protests rather than strike across the country.
The Congress has called it a "Jan Aakrosh Diwas". "There will be protest rallies; we have not called for a 'Bharat bandh' (shutdown). Misinformation has been spread by the BJP which is ill-informed," said senior Congress leader Jairam Ramesh.
The JD(U) decided not to participate in the protests on Monday or the West Bengal CM's proposed dharna in Patna on November 30 because its leader and Bihar chief minister Nitish Kumar has welcomed the demonetisation decision.
Trinamool Congress chief Mamata Banerjee, who had started the call for a unified protest against the currency ban, will hold a march in Kolkata at 1 pm.
Vowing to foil left's call for strike, Banerjee said, "We oppose bandhs. We will take out a protest march (against demonetisation) on Monday."
Over 3,000 police personnel would be deployed in the metropolis on Monday to tackle any untoward incident, said Supratim Sarkar, Kolkata police additional commissioner of police (III).
Justifying the shutdown, Left Front chairman Biman Bose has said the strike call was necessary to register protest against demonetisation, which has caused sufferings to the people.
The Aam Aadmi Party will hold a protest at Central Park, the heart of Delhi.
In Tamil Nadu, protests will largely be conducted by the DMK, as well as the CPI, CPI (M) and the Congress. DMK leader M Karunanidhi issued a statement saying that the Dravidian major plans to protest "outside central government offices in all districts of Tamil Nadu".
The opposition parties agree on the principle of the currency ban, meant to flush out black money, but say the government has taken the step without adequate preparations, which has caused huge inconvenience to the masses.