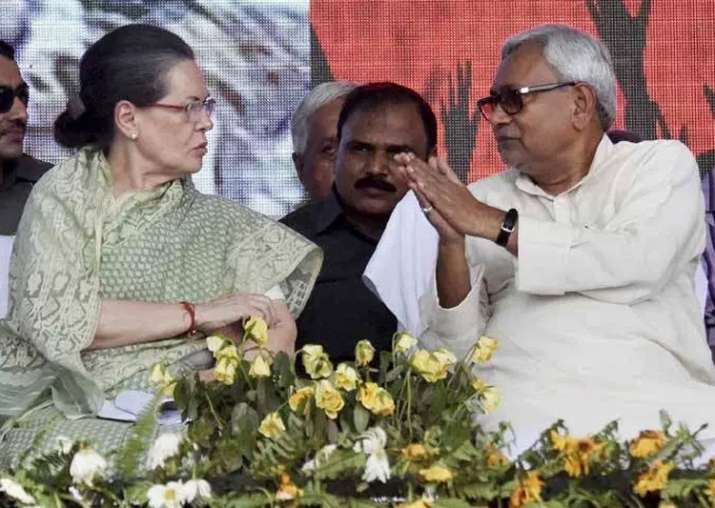 With all eyes on RJD chief Lalu Yadav's Iftar party following his remark that he will ask his alliance partner Nitish Kumar to reconsider his decision to back NDA's presidential candidate Ram Nath Kovind, the Bihar Chief Minister today said that his decision was well-thought and that there was no question of going back on it. 
Targeting the opposition for fielding former Lok Sabha Speaker Meira Kumar into the fray, Nitish said that the strategy was one of defeat and that even the decision to field her was to ensure her defeat. 
"The choice is a lost bet," Nitish said. Taking the opposition's ploy -- to pit 'Bihar ki Beti' (Bihar's daughter) Meira Kumar against the former Bihar Governor -- head on, Nitish said, "Bihar ki beti ka chayan to haarne ke liye kiya gaya hai. (The nomination of Meira Kumar has been done to make her lose)."      
"Agar itna his tha to Bihar ki beti pehle kyun nahi yaad aayi? Behtar hota ki aap 2019 ki jeet sunishchit karte aur Bihar ki beti ko 2022 mein rashtrapati banate (If at all they were so worried, why did they not choose Meira Kumar earlier? It would have been better if you had thought of ensuring a win in 2019 and then nominate Bihar ki Beti as President in 2022)," he added.  
Nitish said that the decision to support Kovind's candidature was conveyed to Lalu and Congress president Sonia Gandhi well in advance'. 
"The decision was taken after consulting all leaders of the party. It was a well-thought decision based on merit," he said.
Nitish also said that a before the opposition parties meeting in New Delhi, senior Congress leader Ghulam Nabi Azad had visited Patna and he had personally told him about the decision taken by the Janata Dal (United).
The Bihar CM further said that he had a lot of respect for Meira Kumar, but 'Bihar ki beti' has been nominated only to lose'.
"We have taken independent decisions in the past also, we had supported Pranab Mukherjee when we were in the NDA," Nitish noted.
He also appealed the parties to reconsider their decision and start chalking out strategy for the 2019 general elections. 
"This is not a political issue, and it should not be made a subject of political confrontation," he said.
"You (Congress) had opportunities twice. But, why didn't you chose the 'Bihar ki beti' when she had a chance to win? I believe they should have a re-think," Kumar said, adding, "But you (Congress) have begun (preparations for the 2019 general elections) with a losing strategy." 
The Bihar CM said, "There should be a strategy for the 2019 general elections. This is not for victory in 2019." 
He said that Kovind's name was announced first by the ruling party and the JD(U) did not have any objection to his name. "That is why we supported him," Kumar said. 
The opposition parties yesterday fielded Meira Kumar, a Dalit leader who hails from Bihar's Sasaram, against NDA's pick for July 17 elections. The ruling NDA is in a comfortable position to get its candidate elected to the post. Several non-NDA parties including Nitish's JD(U), BJP, AIADMK (both factions) have pledged their support to Kovind.