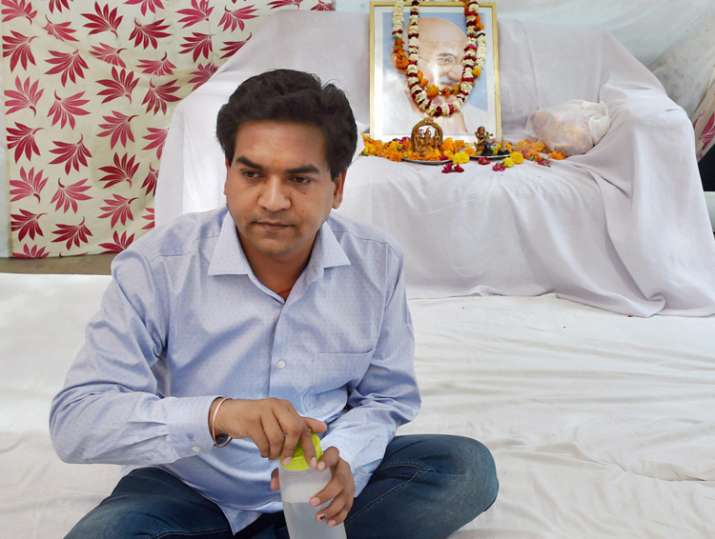 Sacked Delhi minister Kapil Mishra, who is sitting on a hunger strike seeking details of funding of Aam Aadmi Party leaders' foreign tours, was today allegedly attacked by a purported AAP volunteer. 
The AAP, however, has rejected the man's claim of affiliation with it. 
The man, identified as Ankit Bhardwaj, attempted to slap Mishra but was stopped by the former minister's supporters. 
Bhardwaj was soon taken away by cops who tried to downplay the incident saying "nothing big has happened."
Mishra, who has levelled corruption charges against Delhi Chief Minister Arvind Kejriwal, warned his supporters against indulging in violence and said he would give up water as well if his supporters retaliated. 
His supporters, who stopped the attacker before he could do any damage, alleged that he claimed to have taken the name of "Sanjay Singh and Jain" when asked about who sent him. 
Bhardwaj, while being whisked away by the police, told reporters that he attacked Mishra because "he has betrayed the party" and "dented the morale of party volunteers." 
"Nobody has sent me here, I have come on my own. I am an AAP worker," Bhardwaj claimed. 
Talking to India TV, Mishra said, "He reached my throat but my supporters caught him. His intention seemed dangerous. I want to say that I will not be frightened and will continue on my quest."
Mishra, who was sacked from Delhi cabinet and primary membership of the AAP, did not comment on whether Bhardwaj is a volunteer of the party, as claimed by him. 
The AAP has said Bharadwaj has no link with it and is working for the Bharatiya Janata Yuva Morcha (BJYM), the youth wing of the BJP. The BJYM has also denied having any link with Bharadwaj. 
Police said he was sitting on the hunger strike and suddenly stood up when doctors came for Mishra's medical check-up. 
They, however, maintained that no attack has taken place. "He was sitting there. When Mishra's medical check-up was underway, he stood up and shouted, 'Why are you doing this?' He has been whisked and further investigation is underway," said a senior police officer.
Earlier, beginning his strike, Mishra said, "I'm sitting on a satyagraha till I get clarification on details of international travel expenses of some senior AAP leaders. It is not a dharna but a satyagraha. I would like to send a message to Chief Minister Arvind Kejriwal to put out the details of the foreign tours of his five leaders-- Satyendra Jain, Ashish Khetan, Raghav Chaddha, Sanjay Singh and Durgesh Pathak--in public domain." 
Mishra was suspended from the AAP after his startling allegation that he witnessed Kejriwal accepting Rs 2 crore in a dodgy transaction. 
Yesterday, he challenged Kejriwal to contest elections against him. 
"You are trying to remove me from the assembly, I challenge you to contest elections against me from any seat. Let's fight the election from my Karawal Nagar seat or even your New Delhi seat. If you believe that people are with you, then I'm ready to resign," Mishra said in an open letter to the AAP chief.