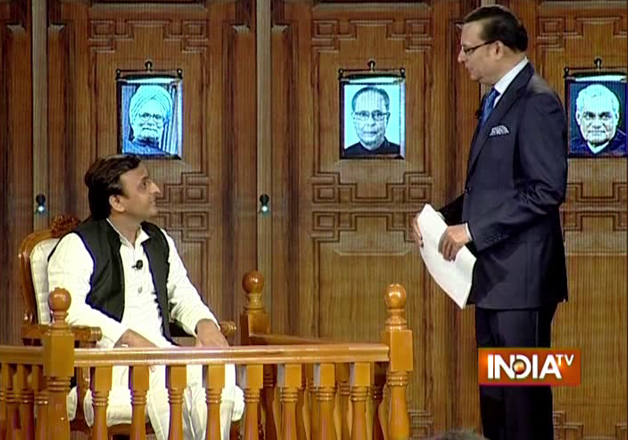 Uttar Pradesh chief minister Akhilesh Yadav today came out in the open and staked claim for "power to distribute party tickets" in the forthcoming assembly elections. 
Replying to questions from Rajat Sharma at the daylong India TV conclave "Chunav Manch" held in the state capital, Akhilesh Yadav said: "I am ready to return party posts and even portfolios, but I must have the power to distribute tickets, because the forthcoming poll is after all a test for me and my party". (Main pad aur vibhag dene ko taiyar hoon, lekin ticket baantne ke haq rakhta hoon, kyonki pareeksha meri hai, hamaari aur hamari party ki pariksha hai.)
Asked how he would respond if anybody demanded the chief minister's chair, Akhilesh Yadav nonchalantly replied: "Probably I will give away that too, provided the one who wants, really deserves it." (Maangnewala achha ho toh shayad main woh bhi de doon.)
On his feud with his uncle Shivpal Yadav, the chief minister told Rajat Sharma: "I am ready to return his portfolios, but you are not asking me what I have lost".
The chief minister was emphatic when he said, "no outsiders would be allowed to interfere in our party work". When Rajat Sharma asked whether he was alluding to Amar Singh as outsider, Akhilesh Yadav smiled, but did not refute. 
Even as Akhilesh Yadav was replying to questions in the show, his father and party supremo Mulayam Singh Yadav announced in the party office that sacked Mining Minister Gayatri Prajapati would be reinstated.
Reacting to this, the chief minister said that he would abide by the instructions of his party supremo. "I will not disobey the instructions of my father."
Asked whether other ministers who have been sacked would be reinstated, Akhilesh Yadav replied: " I will work whatever our Netaji (supremo) tells us. Nothing more than that."
Asked whether he felt slighted when he was removed as the state party chief, Akhilesh Yadav replied: "You might have seen the very day itself whether I was pained or not." (Mujhe bura lagaa uska asar aapne dekha hoga us din.)
When Rajat Sharma said that he retaliated by withdrawing 6 portfolios from his uncle Shivpal Yadav, Akhilesh replied: "You knew the answer, and yet you asked me this question."
Asked whether he would be taking more such steps in the near future, the chief minister sidestepped it and replied: "Now we have to go before the people, we have to prepare our new manifesto, and think about the farmers, the unemployed youth, and the state's infrastructure."
The chief minister described the completion of Agra-Kanpur-Lucknow highway, the Lucknow Metro nearing completion, foreign investments in UP, distribution of 18 lakh laptops to students, setting up of new universities and industries as major achievements of his four and a half year old government. 
He said that the opposition parties had no major issue to nail his government, and were only harping on the issue of law and order. 
Akhilesh Yadav claimed that his government has taken action against its own leaders who were found indulging in land grabbing. "We have been taking action and will continue to do so."
Describing the Bulandshahr gangrape incident involving a woman and her daughter as "sad", the chief minister said, action were immediately taken against all police officers, and all assistance have been provided to the family of rape victims. 
When Rajat Sharma pointed out that there has been 362 per cent increase in incidents of rape in the last four years in UP, the chief minister replied: "I am not saying that I am trying to defend my state, but the rape statistics in other states are worse. Here we have started 1090 helpline for women in distress. I have sent a team of our officers to go to New York and find out best practices to be followed by police."
(Akhilesh Yadav's interview by Rajat Sharma in Chunav Manch will be repeated today at 6 pm and 9 pm on India TV.)