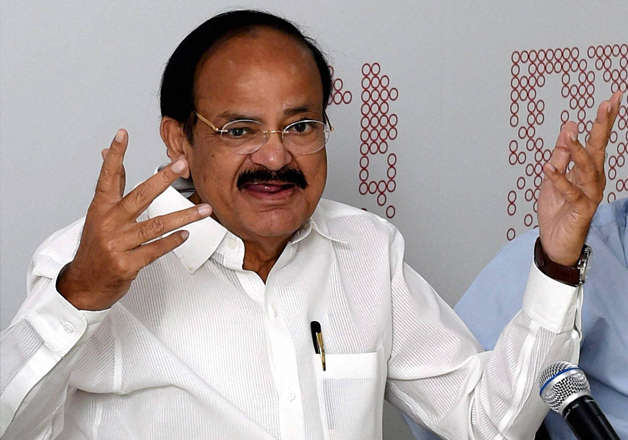 Union Minister Venkaiah Naidu today slammed opposition parties for triggering panic over government's decision to demonetise Rs 500 and Rs 1,000 notes.
Terming the move as an 'historic' step by Prime Minister Narendra Modi, Naidu said that it was fine for TV channels to show the inconvenience caused to the people after the announcement was made but was not fair to 'dwell' on it.
"Buses, metros, everything except black money is moving, nothing has come to a halt," he said.
"With the parallel economy acquiring menacing proportions, government has taken this decisive and bold measure," he added.
Naidu reiterated that people who have earned their money with honesty need not worry and they should exchange their old currency notes at banks and post offices. 
"Do not panic. Your notes will not be invalid, if money is valid. Only those who are corrupt, terrorists, money launders need to worry," he said. 
Almost all opposition parties except Nitish Kumar's Janata Dal (United) have criticised the government over its decision. 
Naidu said that farmers have no black money, hence they should not get panicked with the decision. 
Prime Minister Narendra Modi had on Tuesday night announced withdrawal of 500 and 1,000 rupee notes from circulation in a bid to flush out black money. 
Menwhile, Naidu informed that the government has decided to ease the annual renewal norms for TV channels and existing broadcasters can continue operations by simply paying annual permission fee 60 days before the due date.
"As part of the government's initiative of ease of doing business, the Ministry of Information and Broadcasting has completely done away with the process of obtaining an annual renewal for TV channels in the current form," the I7B Minister said.
Naidu said that broadcasters who have been given the permission for uplinking or downlinking can continue their operations by simply paying the annual permission fee upto 60 days before the due date, which by itself will be treated as permission for continuation of a channel for a further period of one year.
This decision, the minister emphasised, would benefit a total of 963 channels and teleports.
The I&B ministry, Naidu said, is committed to the vision of PM Modi to promote ease of doing business and will continue to take more steps in consultation with stakeholders.